Single-wave 400G across 4,000km? Yes – with Ciena's new Waveserver 5.
Ciena's popular family of Waveserver products just got a new member – Waveserver 5. With tunable capacity up to 800G and support for 400GbE services at any distance, learn how Waveserver 5 is already setting new industry benchmarks – in live networks.
Two mega-trends have been driving rapid innovation in optical networks. Advanced coherent technology brings the promise of greater network capacity, now reaching up to 800G across short links and 400G at distance. At the same time, new compact modular platforms promise greater density, reduced footprint and lower energy consumption.
What if you could combine this incredible performance and awesome density into one device? Sounds too good to be true, right?
Well not anymore. Ciena's most advanced coherent technology, WaveLogicTM 5 Extreme, has arrived in the newest member of our Waveserver family of interconnect platforms: Waveserver 5. And, it's bringing the performance you need, packaged in a compact and efficient footprint.
Combining the world's most innovative coherent chipset with the simple, server-like operational model the Waveserver family is known for, Waveserver 5 provides network operators with industry-leading transport economics for high-capacity, high-growth applications.

Ciena's Waveserver 5 compact interconnect platform
Single carrier 400G across 2,000km. And we made it across 4,000km - for good measure.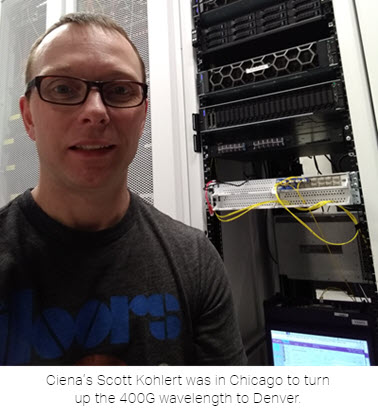 Internet2 will be one of Ciena's first customers to deploy Waveserver 5. They are building out their next-generation research and education (R&E) network across the U.S. and they have selected Ciena's best, most flexible, open and highest-performance technologies to do the job. In the past week, Internet2 and Ciena achieved an industry milestone in this new network: Waveserver 5, powered by WaveLogic 5 Extreme coherent optics, was used to turn up the industry's longest-distance single carrier 400G wavelength with a 2,100km span between Chicago and Denver. This is quadruple the capacity of what was previously possible at that distance – and it only requires a single set of electro-optics for four times the throughput.
This means the capacity of Internet2's core network can accommodate massive data flows used by computational science researchers in disciplines as vast as astronomy and as minute as sub-atomic particle physics. It expands the ability to deliver diverse services to regional education networks and their education institution members.
Waveserver 5 improves service density, spectral efficiency and power conservation. For Internet2, Waveserver 5 reduces the overall space and power consumption of its current optical add/drop locations by as much as two-thirds. Additionally, using a single carrier allows maximum spectral efficiency even at the extreme rates deployed on this circuit.
One thing about researchers – they love to push boundaries and see just what the technology is capable of! So, of course, they couldn't stop at 2,100km. Internet2 and Ciena looped back the Chicago to Denver lightpath to create a 4,200km route. And, like any good scientific proof, verified that indeed WaveLogic 5 Extreme can provide 400G over double the original distance, and it still has some gas in the tank to go even further! This is great news for Internet2 (and our other customers), proving the ability of Waveserver 5 to enable single carrier 400G for longer needed spans in their network.
But why stop at 400G? WaveLogic 5 Extreme was also turned up between Chicago and St. Louis. This 525km link, that in the past transported 200G wavelengths, is now able to support 600G wavelengths. That means three times the data throughput using a single transponder and an improvement of 33% in spectral efficiency. Researchers are excited for the data to flow and the innovations to follow. Bring on the bandwidth!
Waveserver 5: Meet the newest member of the Ciena Waveserver family
Let's take a closer look at the newest member of the Waveserver family, which is designed to address high-growth applications requiring the greatest level of spectral efficiency, including single span Data Center Interconnect (DCI), metro ROADM-based networks, long-haul routes, and submarine links.
Waveserver 5 has a flexible, modular design that provides the ability to mix and match different traffic modules to minimize shelf space and maximize density, with up to 12.8Tb/s of capacity in two rack-units of space. Whether your network is built around 100 Gigabit Ethernet (100GbE) services, or you want to introduce 400GbE, Waveserver 5 has you covered with modules that offer flexible client options, plus line side capacity from 200G to 800G that is tunable in 50G increments.

Figure 1: Waveserver 5 is suited for all applications requiring the highest spectral efficiency
If you're looking for more automation and programmability, Waveserver 5 uses industry-standard open APIs and management interfaces, so it can easily integrate into existing management platforms. Its modern data models enable real-time telemetry and provisioning at scale. Waveserver 5 is also managed by Ciena's Manage, Control, Plan (MCP), a modern SDN domain controller for providers that desire a turnkey option for product and service management. Add in usability features like Zero Touch Provisioning, integrated 100GbE and 400GbE test set, and client topology discovery, and you've got a platform that is simple to deploy and provision, so you can get traffic up and running fast.
With Waveserver platforms deployed in more than 170 networks globally, Ciena is the market leader and partner of choice for compact modular systems, ranked #1 in market share by Cignal AI, and ranked #1 for disaggregated DWDM by the Dell'Oro Group for 2019. Ciena was also the most frequently cited leader in optical Data Center Interconnect (DCI) according to the recent IHS Markit Optical Equipment Vendor Leadership survey. With Waveserver 5 you benefit from the combination of our leading innovation track record, proven experience and industry leadership in one platform.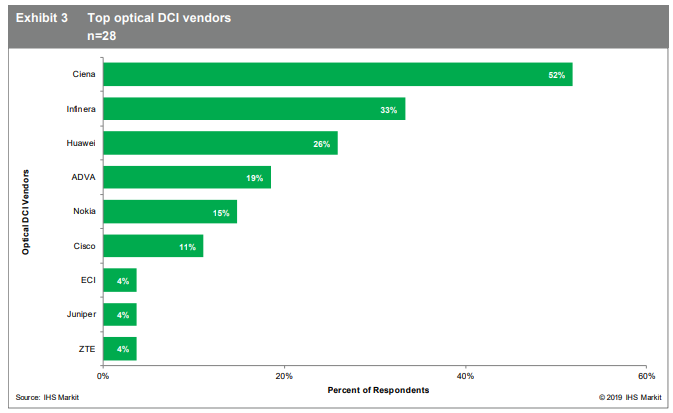 Want to de-risk your next high-capacity network deployment? Join the Waveserver family with WaveLogic 5 Extreme on Waveserver 5.