Reopen, reimagine and redesign: how a "virtualized edge" enables state CIO's to thrive in today's environment
As more employees work remotely, state governments are considering how to best support a more dispersed workforce, while still meeting citizen needs. Ciena's Daniele Loffreda explains how a virtualized edge can help.
After several months in "stay at home" mode, most state governments are beginning the process of reopening. As they navigate through the uncharted territory of what one state CIO dubbed
"after- coronavirus,"
agency leaders face many complex questions and challenges:
How to return to a full, "before coronavirus"-level of services while ensuring the safety of employees and citizens
Which employees can continue to work-from-home, which to call back to a state office, and whether to continue travel restrictions
How to prioritize projects and workloads in an environment of steep budget cuts
Which agency remote locations to bring back to full-throttle operations, and which to close or consolidate
To thrive in this new environment, state governments will need to change the way they operate. State agencies are balancing the immediate need to quickly restore citizen service levels with long-term strategies to better prepare for future uncertainties. During an eRepublic webinar, presenters discussed steps states are taking to achieve this balance: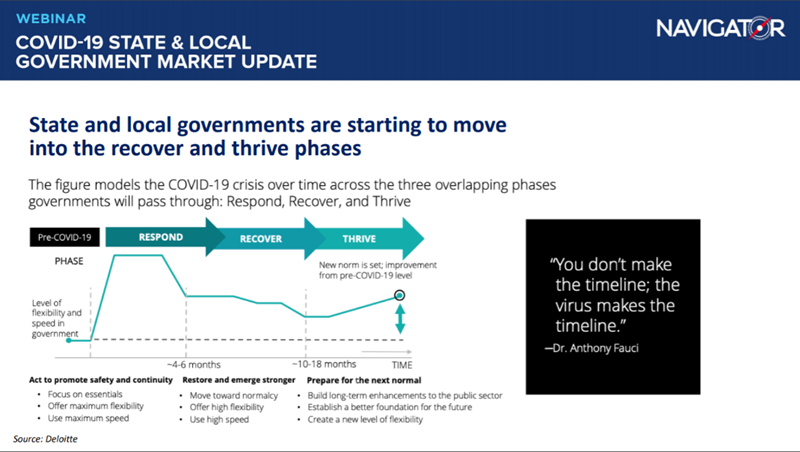 Restart, Redesign, Rethink
Along with a new set of challenges, this new environment also provides state leaders unique opportunities. Restarting government services allows agencies to reimagine how services and functions are delivered. In addition, state government can rethink work processes and technologies for building more responsive, efficient citizen services.
To address the challenges and take advantage of the opportunities, agency heads are increasingly looking to the State CIO. In a recent NASCIO
webinar
, state CIO panelists described their initiatives to help agencies automate, virtualize, and modernize functions and processes.
One area of potential rethink and redesign is in the agency branch locations. Given the cost savings of remote working and the productivity levels demonstrated during the COVID-19 pandemic, many agencies will continue work-from-home arrangements. This means that some branch locations may be closed while others could be consolidated on a regional basis. Of course, high-contact essential agency locations like public safety, motor vehicles, and healthcare are likely to continue operating.
Each site may differ in size, but each needs the ability to access cloud-based applications, technologies and data that enable them to deliver the personalized, predictive, "retail-like" experience that citizens demand. As state governments are a top target for cyber-attack, each site also needs to ensure the privacy and security of data.
Traditionally each location includes dedicated network appliances like routers, firewalls, or Wide Area Network (WAN) optimizers to support the connectivity service. As most agency branch staff focus on citizen services rather than technology, installation, troubleshooting, and repair requires IT personnel to travel to each site. Some high-touch agencies have hundreds of locations across a state. Dispatching an IT tech to each location is expensive and detracts IT staff from performing other needed tasks. For example, a state network engineer once told me that he budgets two days' expense and out of office time for each site visit his technicians make.
Virtualized Edge
Prior to the pandemic, state CIOs were already considering how to automate and virtualize many IT and network functions. Many were choosing IT components on an "as-a-service" basis to reduce costs, scale up or down dynamically based on branch need, and respond faster to citizen requests. CIOs can leverage Network Function Virtualization (NFV) at the branches to decrease operational costs and increase branch efficiency. NFV eliminates multiples vendor-specific appliances and allows agile service deployment and scale based on actual branch business need. Additionally, NFV provides the ability to remotely update, modify, or outright replace Virtual Network Functions (VNFs) for further flexibility and cost savings. These VNFs can be deployed on premises, in the cloud, or in a hybrid mode.
Value-added network functions like routers, firewalls, and WAN optimization can now be deployed via software on a single device, decreasing space requirements, power expense and operational complexity. Any necessary upgrades or troubleshooting can be done remotely from a central operations center.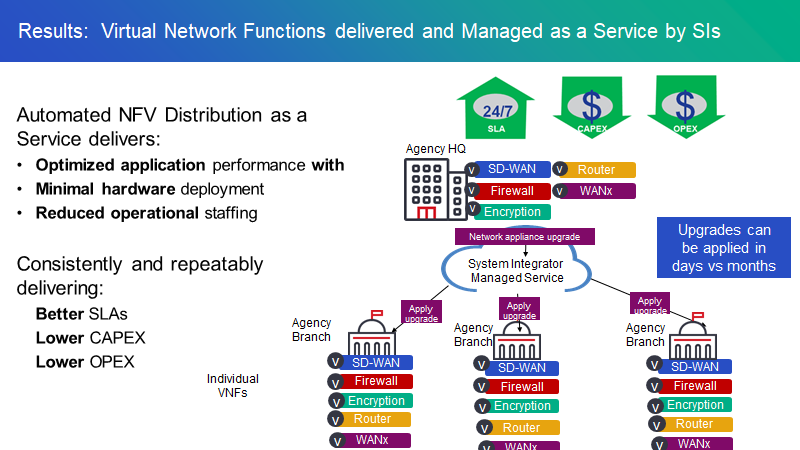 This minimizes the need to dispatch IT personnel, which significantly reduces travel costs and lost IT staff productivity. Some state IT departments deploying virtualized services may be challenged by cumbersome VNF onboarding and service chain creation and modification processes, which can lead to disruptions in operations that inhibit the full intended benefits of NFV, slowing down service deployment, and impacting an agency branch's ability to deliver citizen services.
By implementing a virtualized edge solution, state CIO's can address these challenges and improve the efficiency of remote agency branches while reducing operational cost. Most importantly, it helps ensure that agency branch staff are free to focus on serving citizens rather than worrying about IT issues.