Linking the packet network edge, metro, and core
Ciena's Wayne Hickey discusses key access and metro networking trends, how advanced multi-layer Segment Routing protocol support can link multiple network domains, and how to deliver IP-based connectivity with improved service velocity and performance to address your customers' demands.
As wireless and wireline traffic demands continue to grow with no signs of slowing down, operators need a network that can adapt and scale on demand due to many key access and metro network trends that are now driving increased growth and agility requirements closer to the network edge.

Figure 1: Key access and metro network trends
What are these key access and metro trends?
The Internet of Things (IoT) will drive orders of magnitude more machine-based endpoints and physical computing devices, each performing application-specific functions, as part of an associated product or service. This will drive increased traffic demands and path diversity. Just think of the complexity associated with interconnecting tens of billions of machines to each other, data centers, and humans!
5G is already here and as coverage and functionality increases in the coming years, will support massive increases in the density of connected devices – think IoT – but 5G is more than just a wireless upgrade. It means IoT enablement. When compared to 4G LTE, 5G is expected to provide up to 100x higher user data rates, up to 10x lower latency, up to 1000x more data volumes, and up to 10x the endpoint connection density. Having the right capabilities at the network edge is key to delivering much faster download speeds, guaranteed lower latency, and massive increased in connected endpoints.
When it comes to computer-generated simulation of virtual and augmented reality (VR/AR), lower and guaranteed latency is key to an optimal quality user-experience. Both AR and VR will require more bandwidth, and near real-time performance. And yet another new video format is just around the corner – 8K, which quadruples the number of pixels, just like 4K did with 1080p.
The rapid adoption of these trends and applications is having a significant impact on edge networks with no end in sight of slowing down. In order to harness new technologies – and the ever-increasing amounts of data – linking the metro and edge networks to the core network is essential to maintaining existing customers, as well as attracting new ones.
Simplifying your network with Segment Routing
IP networks are not simple. In traditional IP-based networks packet forwarding decisions are made on a hop-by-hop basis with standalone routers performing route lookups at every node. Over the years a plethora of routing protocols were developed to forward data packets. Multiprotocol Label Switching (MPLS) was developed two decades ago where data packets were forwarded via small labels that gets added to packet upon network ingress. This frees the router from having to maintain full and accurate routing information for all destinations prefixes to make forwarding decisions. With MPLS, only Provider Edge (PE) routers require this detailed information to determine the forwarding treatment of packets along a desired Labeled Switched Path (LSP) between PEs'.
MPLS provides the ability to engineer traffic paths that do not necessarily follow the routing table, which helps optimize network resources, such as the following:
Support multiple connection types – IP, ATM, and Frame Relay
Reduce routing lookups to improve traffic speeds
Provides Service Level Agreements (SLA) for a defined Label Switched Path (LSP)
Secure VPNs, Virtual Private LAN Services (VPLS), and Virtual Leased Lines (VLLs)
While MPLS provides a quantum and cost-effective leap over legacy circuit-based switching, it's far from perfect and is showing its age. Label Distribution Protocol (LDP) and Resource Reservation Protocol-Traffic Engineering (RSVP-TE) are complicated protocols to implement, maintain, operate, scale, and troubleshoot. They use a lot of complex signaling for traffic in the network, have a limited understanding of the topology, and flood the network with unidirectional MPLS tunnels. For many network operators, even highly skilled Operations staff have a difficult time managing and scaling their networks.
Over a decade ago, Segment Routing (SR) appeared making IP routing more flexible and scalable. In a SR path, the source (PE) chooses a path and embeds it directly into the packet header as an ordered list of links, making the network much simpler to own and operate. Best of all, SR works with MPLS or an IPv6 data plane, enabling all of the benefits mentioned above including Layer 3 VPN (L3VPN) and Ethernet VPN (EVPN).
Both SR-MPLS (IPv4) is a mature and widely deployed standard with SR-MPLS (IPv6) gaining increased traction. IPv4 is widely deployed. IPv6, not so much. Generally, deployments are based on silicon SR availability and associated products. The good news is most commercially available silicon manufacturers are adding IPv6 support with packet fabric and converged packet-optical platforms to follow.
Ciena's Adaptive IPTM implementation of SR presents the perfect architecture to evolve the network into a scalable, efficient, simplified, and cost-effective architecture leveraging SR. Linking the routing and switching-based network edge, metro, and core networks to be automated, open and lean, with SR platforms like Ciena's 6500-PTS and 6500 T-Series (T12/T24).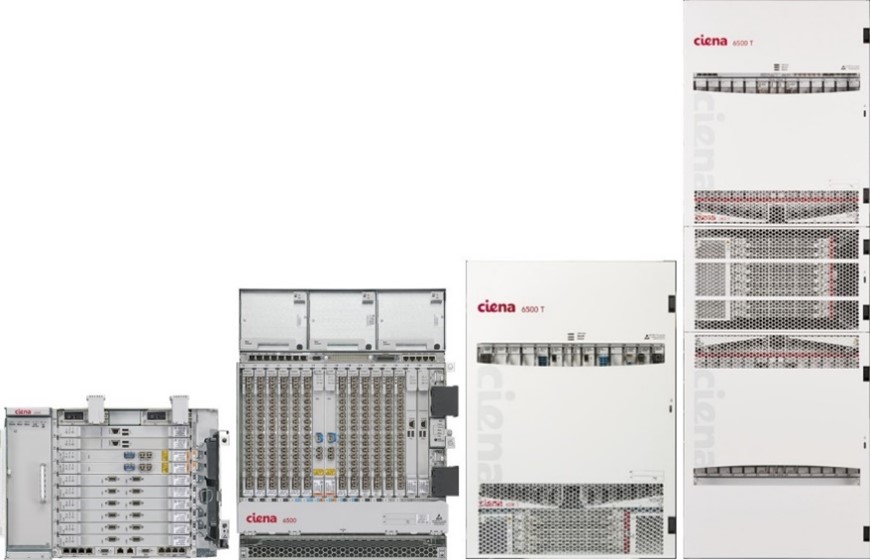 Figure 2: Ciena's 6500-PTS and T-Series
Adaptive IP is a better and different way to address growing customer demands for IP-based services; a way that is automated, open, and lean. You can deliver IP-based connectivity for 5G, Business Services, Cloud, Fiber Deep, legacy TDM, and Edge Cloud with the service velocity, performance, and reliability that your customers' demand.
Advanced multi-layer protocols like Segment Routing is where the market is headed, ask us how Ciena can help link your edge and metro networks to the core network.
What's in your access, aggregation, and metro network?