Hawaiki: from canoes to connected broadband in the Pacific

Rémi Galasso is CEO at Hawaiki Submarine Cable LP, and a telecoms industry veteran with over 25 years' experience in key international markets including Asia and Oceania.
According to local mythology, Hawaiki is the spiritual home of the Polynesians; a courageous people renowned as intrepid naval navigators, and whose rugged canoes reached the most remote corners of the Pacific, including Hawaii, Easter Island and New Zealand.
It's no surprise then how the submarine cable now traversing these same destinations – and many more – earned its namesake. It took the ancient seafaring Polynesians weeks and months to interact with the islands across the vast Pacific Ocean. Today, the Hawaiki Transpacific Submarine Cable makes this possible in the blink of an eye.
Brian Lavallée, Senior Director of Submarine Network Solutions Marketing at Ciena, sat down recently with Hawaiki Chief Executive Officer, Rémi Galasso to discuss the firm's mission to transform the Pacific with its world-class subsea cable system.
Brian: For those new to your company, who is Hawaiki?
Rémi: Hawaiki Submarine Cable LP owns and operates a submarine cable of the same name spanning 15,000km to connect over 350 million users in Australia, New Zealand, American Samoa, Hawaii, and the United States with a current design capacity of 67Tbps. Our cable entered into commercial operations in July 2018 with a guaranteed design life of 25 years meaning it will be in-service until to at least 2043, and likely longer.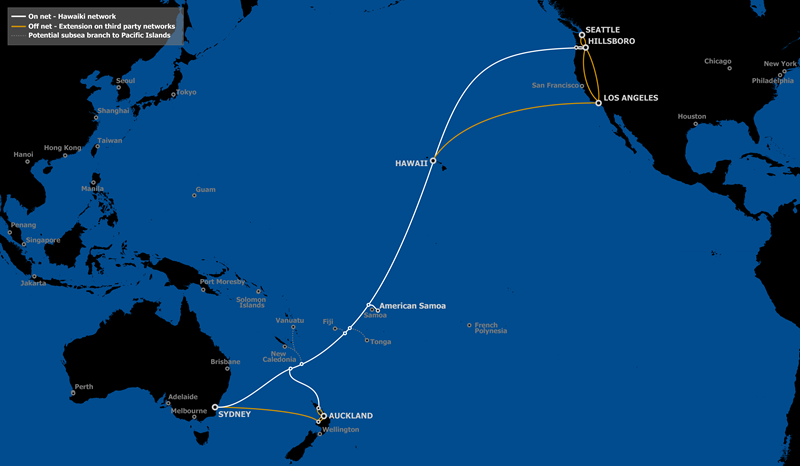 Figure 1: Hawaiki submarine cable connectivity
Brian: Can you tell us about the corporate vision of Hawaiki?
Rémi: Hawaiki is the mythical island home of the Māori people of New Zealand and is from where they bravely ventured thousands of kilometers across the Pacific Ocean in open canoes. Their brave spirit of innovation and desire to connect with the broader world continues to inspire us in helping to bring Pacific communities closer together with affordable high-speed broadband capacity. Our transpacific network infrastructure currently links Australia and New Zealand to American Samoa, Hawaii and the US, opening a new era of international connectivity to deliver important socioeconomic benefits to organizations, communities and people across the Pacific region.
Brian: What are the corporate goals of Hawaiki?
Rémi: Our goals are to improve transpacific connectivity and diversity, create a more competitive marketplace in-region, reduce connectivity costs to all customers, and ultimately to stimulate economic growth. From conception in 2012 to ready-for-service (RFS) in 2018, we realized our dream for greater connectivity across the Pacific. With the advantages of being carrier-neutral and having unrivalled future-proof capacity, Hawaiki has successfully unlocked the US-to-ANZ route and is continuously challenging the existing cable systems and incumbent carriers. We truly believe the Hawaiki Cable is a gamechanger for regional telcos, ISPs, cloud service providers and others seeking reliable connectivity.
Brian: What's unique to your business model that you believe sets you apart from the competition?
Rémi: We're a provider of the fastest, highest-capacity link between Australasia and the US and recognize our customers' need for innovative capacity solutions with a much faster time-to-market to accelerate and capitalize on emerging revenue-generating opportunities. This is achieved by allowing our customers to choose from a large granularity (1Gbps, 10Gbps, 100Gbps) of capacity products. Hawaiki provides greater connectivity, more diverse paths and competitive pricing from Australia to the US, New Zealand to the US, Hawaii to the US and Australia to New Zealand, while delivering for previously underserved customers in Pacific Island nations including American Samoa, New Caledonia and others.
Brian: What points of presence are available to your customers?
Rémi: We designed our submarine cable network specifically to satisfy an increasingly bandwidth-hungry environment by providing POP-to-POP capacity to our customers to numerous important locations in the US (Hillsboro, Seattle, Los Angeles, San Jose), Australia (Sydney), and New Zealand (Auckland). These interconnected locations are major hubs for international transpacific connectivity now, and into the future. On top of this, we have developed tailor-made connectivity solutions, including additional domestic backhaul and end-to-end delivery in customer-specific locations. For example, Hawaiki was recently selected by ONATi French Polynesia to provide capacity from the termination point of the Manatua submarine cable in Samoa to the US west coast.
So, it's fair to say we are certainly pushing the boundaries of our network design to deliver better services to more customers.
Brian: What datacenter and exchange points-of-presence are currently available to your customers?
Rémi: In the US we connect to Flexential Brookwood (Hillsboro), Westin Building Exchange (Seattle), Coresite LA1 (Los Angeles), Equinix SV1 (San Jose), and of course, our own cable landing station in Hawaii. We connect to Equinix SY4 in Sydney, Australia. In Auckland we connect to Spark Digital Mayoral Drive and Datacom Orbit Drive. We can also offer connectivity to other locations in the US, Australia and New Zealand, available on request.
Brian: What makes the Hawaiki transpacific cable so unique?
Rémi: Hawaiki is the first submarine cable between the US west coast and Oceania optimized to support the latest in coherent optical wavelength technology. The cable was upgraded with Ciena's GeoMesh submarine network solution, allowing us to offer the lowest cost per transported bit, while evolving to a total 67Tbps of capacity. This allowed us to increase design capacity by 53% just months after our commercial launch. We offer a broad range of customer solutions, scaling from 1GbE, 10GbE and 100GbE services over 200Gbps, 250Gbps, and 300Gbps wavelengths today. GeoMesh provides Hawaiki with significant flexibility to meet both current and future bandwidth demands, which includes faster delivery through dynamic service provisioning.
Brian: Why did you choose to work with Ciena?
Rémi: Hawaiki seeks out vendors that share our commitment to genuine collaboration, ensuring that we work with 'trusted partners', not merely 'suppliers'. Ciena is a technology leader in the submarine upgrade market space, and offers best-in-breed Submarine Line Termination Equipment (SLTE), which is integral to their unique GeoMesh submarine network solution. We wanted to match our modern coherent-optimized wet plant to WaveLogic coherent optics from Ciena, which pioneered this transmission technology, overland and undersea. In a nutshell, our strategy is to maintain a versatile network by implementing Ciena's latest innovations, including Waveserver Ai, to meet our customers' rapidly-evolving and critical needs.
Brian: Have you made any recent network enhancements to better serve your customers?
Rémi: We recently completed an upgrade between our site in Kapolei (Hawaii) and Hillsboro (Oregon) using Ciena's Waveserver Ai stackable interconnect platform with GeoMesh. This route previously went from Kapolei (Hawaii) to Pacific City (Oregon) where an optical-electrical-optical regeneration was required to allow protection on the terrestrial link to Hillsboro.
We upgraded this part of our network with the deployment of a multi-span trunk switching solution from Ciena, enabling optical regeneration only. This allows the link to be extended right into the Hillsboro POP with optical protection while eliminating the need for costly regeneration in our cable landing station. This provides our customers with improved reliability and availability, as well as lower latency. Both our customers and Hawaiki benefit from this upgrade, made possible by Ciena's powerful GeoMesh technology.
We are also in the process of implementing a major capacity upgrade, including multi terabits of additional capacity, to cope with our customers' growing requirements, including the spike in demand triggered by COVID-19.
Brian: What do you see in Hawaiki's future?
Rémi: Let me first say that these are unprecedented times we're in now. Like every industry in the world today, the submarine industry is facing significant challenges. But I am very positive about Hawaiki's future for three key reasons. First, because submarine cables - as critical data infrastructure - have become even more strategic assets for this new connected world we live in. Second, because of our team. Each of us is committed to highest levels of engagement, ensuring our customers' requirements are met in the most pro-active manner, especially through this uniquely challenging period. And finally, Hawaiki is drawing cultural inspiration from the past to help design a better future.
Just like the Polynesians who transformed the Pacific with their ingenuity and determination, we aim to do the same in the 21st century digital age. Strong connectivity narrows the digital divide, and we want to be a key player in this important endeavor by providing the regions we interconnect with affordable and reliable high-speed broadband services.
Since launching the Hawaiki Cable in 2018, we have helped countless organizations and communities to be better, more globally-connected, and we continue to work closely with them, while welcoming new partners connecting with us as this exciting new Pacific adventure unfolds.