Fixed to Flex migration: a proficient way to modernize your network
Migrating from a fixed-grid to flex-grid optical infrastructure delivers greater capacity while also reducing cost per bit. But moving from Fixed to Flex grid can be a complex challenge. Ciena's Atura Bavisi details how Ciena Services can provide a path to success.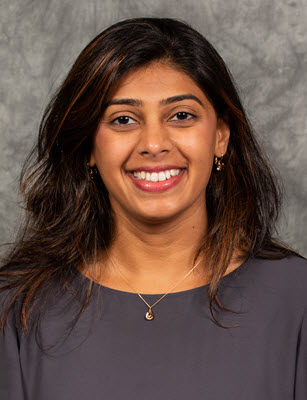 There is massive growth in dynamic and bandwidth intense user applications, like live video streaming, e-gaming, AR/VR, and cloud services to name a few. The demand is in your metro and core networks, which carry aggregated traffic, and at the network edge, where users access services. You need a network that can adapt to your customers' needs. But these changes leave network providers facing some tough questions:
"My fixed grid photonic network doesn't support the next-gen coherent technologies needed to scale my network."
"I don't have the in-house expertise to upgrade my system."
"Keeping up with technology innovations is a full-time job!"
"I cannot afford to take risks, as my users want services anytime anywhere without paying more."
But how can one overcome these challenges? How can network providers prepare their networks to quickly accommodate growing demand without any service disruptions?
The answer to this is migrating from a fixed- to flex-grid network architecture, which enables providers to take advantage of the significant capacity improvements and cost-per-bit reductions associated with next-generation, higher-baud coherent optical technology.
Here are five reasons why moving from fixed- to flex-grid is the way to go:
Increase capacity: Next generation coherent solutions enable programmable capacity such that providers can maximize fiber capacity with less hardware, occupying less space and consuming less power. So, network providers can achieve drastic improvement in network capacity, simultaneously reducing costs per bit.
Improve Utilization: Flex-grid increases spectral efficiency compared to fixed-grid. This is achieved by squeezing channels together to occupy the least amount of the spectrum, which also reduces the wasted spectrum allocated to the dead-band between channels. Thus, the network providers can optimize their infrastructure through improved spectrum utilization and make it flexible by right sizing the channels as needed based on their capacity utilization to take advantage of higher baud modems.
Effective migration: Flex-grid can be easily deployed as an overlay on the existing legacy infrastructure without completely ripping and replacing it, saving time and investments previously made on deploying the network infrastructure. It is the most cost-effective way to modernize the network, without making huge investments.
Future proofs the network: A flex-grid photonic network can accommodate any wavelength, including higher capacity wavelengths enabled by future generations of coherent solutions, thus effortlessly scaling the network as demands for high bandwidth services continue to grow.
Gain competitive edge: Modernizing network infrastructure helps accelerate business - network providers can deploy new services faster, including 400GbE services, and can be more agile towards their end customer's needs. End customers can enjoy enhanced bandwidth availability and superior services. This makes network providers nimble and enable them to stay ahead of the competitive curve.
Moving from Fixed- to Flex-grid can be a complex challenge
Network providers need to make sure that the modernization process helps them to achieve their business goals, without any significant disruption to their services. They need a trusted professional services partner who can help at any stage in the modernization lifecycle—from initial evaluations to full deployment to lifecycle management.
This is where Ciena Services comes in. With its global presence, expert team of engineers who can handle large-scale migrations, state-of-the-art software tools and highly streamlined processes, Ciena can help you get to your end business goal. Ciena Services applies a five-phase methodology that has been road-tested to deliver a seamless fixed to flex grid photonics migration. Ciena Services can:
Effectively plan your migration through our deep expertise and analytical tools.
Minimize impact on operations by assuring that all maintenance windows are well planned and any changes in the network infrastructure are accounted for.
Mitigate risks with a highly skilled team that can manage live-traffic migration and complex modernization projects.
Reduce requirement for new technical skills by having dedicated resources who are experienced and trained to perform complex migration.
Shorten implementation timeline by establishing right-first time execution to avoid any delays in the project.
Serve as a single point of responsibility who oversee the migration from start to finish.
Fixed- to flex-grid migration case study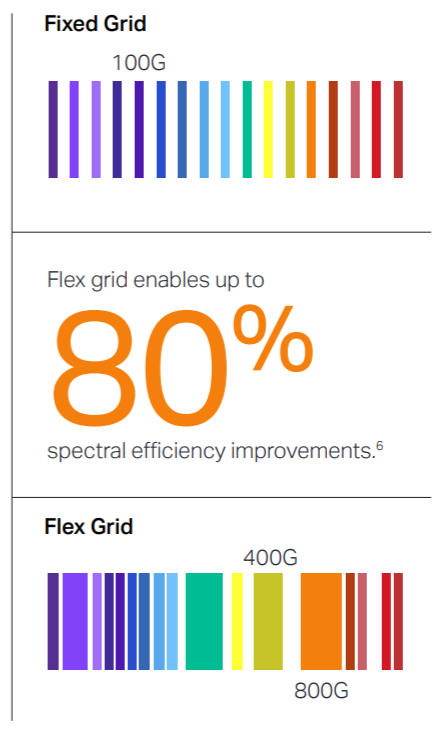 A global cloud connectivity service provider wanted to provide their end customers with high capacity bandwidth and enhanced services at an accelerated pace all while saving on costs per bit. They also wanted to future proof their network so they can scale to handle ever-increasing bandwidth demands in the future.
Further, it became essential to modernize their network and make it agile enough to adapt to changing business needs without affecting their day to day business operations. This was a challenging initiative considering the complexity and scale of their network. The customer was looking for a trusted partner who can handle a project of this size and scope.
That is where Ciena Services came in, with its experience and deep technical expertise, the Ciena Services team engaged, planned, and implemented the project working closely with the customer. Using our five-phase modernization methodology, we recommended solutions based on the customer's unique needs and ensured that the project was completed on time with the least possible service disruption.
The end result was a successful migration completed under a short timeline of only five months, despite the size and complexity of the project. Today the customer can realize the benefits of higher bandwidth utilization with higher end customer satisfaction and is able to boost their competitive advantage by dramatically reducing the cost of their 100G services.
Ciena Services is focused on solving your business challenges and is your trusted partner to guide you through your migration journey.
Learn more about Ciena Services and request a demo on flex grid photonics to make your journey a success.