Delivering true 5G: are we ready?
It's already been an exciting year for 5G technology, as we finally move the needle on commercial deployments and early adoption of new use cases. We discussed with Ciena's Joe Marsella how mobile and wholesale network operators are gearing up to capitalize on the benefits and opportunities of 5G – and how technologies such as Network Slicing will play a key role.
Are we finally justifying the love for 5G?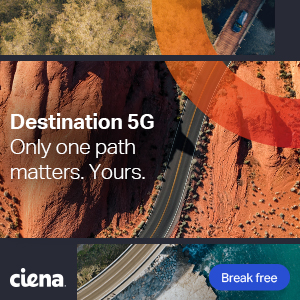 What many may not realize is that 5G will initially leverage 4G and coexist with it for many years to come, rather than immediately obsolete it. Consumers will have plenty of time to swap out their 4G-enabled devices for 5G-capable ones with the pace of change largely dictated by how attractive the new 5G enable apps and monthly plans will be. However, we simply can't discount the amazing network performance that 5G will provide.
We've already witnessed 5G New Radios (NR) providing impressive wireless performance gains, even while connected to the existing 4G Evolved Packet Core (EPC) in what's referred to as 5G Non-Standalone (NSA) mode. This configuration supports early enhanced Mobile Broadband (eMBB) applications such as HD video streaming. The next evolution of 5G performance will be driven by 5G Stand-Alone (SA) mode, where 5G NRs are connect to a 5G Core alongside Multi-access Edge Computing (MEC) to support massive Machine-Type Communications (mMTC) and ultra-reliable Low-Latency Communications (urLLC). These latter two uses cases will enable a wide range of new applications for telemedicine, industrial automation, self-driving vehicles, and public safety among others.
Where are we seeing 5G deployed already?
Operators globally have been focused on 5G rollouts in densely populated metro areas in an effort to offer the base solution to their masses of customers as quickly as possible. It always comes down to bandwidth – and more of it! And, numerous city centers are on the brink of 5G transformation. In the future, we'll see metro areas morph into Smart Cities, adopt driverless vehicles, embrace tech-powered emergency responder services, and fuel hubs for new innovation centers and businesses.
On the other hand, the outlook in rural areas – with lower end-user densities – will lag metro 5G rollouts. While government entities have taken steps in the right direction to help close the digital divide by offering funding to deliver high-speed bandwidth service to rural communities, there's still a long way to go. This provides an immense opportunity for operators to also consider rural communities as 5G takes off. These operators have the unique ability to further economic development and growth, so no town is left behind and to address the digital divide.
Whether it's a metro or rural network, the strategic foundation remains the same – delivering the right connectivity for the required use case. For example, mobile network operators will now have the capability to prioritize network availability for first responders to ensure critical communications is maintained when its needed most.

When will the network be ready for full 5G?
Despite the hype, we have a long way to go on the 5G journey and it will take years to bring full end-to-end 5G network performance to everyone and everything. This next generation of technology requires more than just increasing capacity on existing mobile networks. To truly enable new applications and business models, operators are taking bold steps to change the way networks are designed, deployed, and managed. They are also embracing concepts like automation, analytics, virtualization, Multi-access Edge Computing (MEC), and Network Slicing, as these are critical to ensuring commercial success for both existing 4G and future 5G networks.
What role does optical technology play in preparing for 5G?
Optical technology is critically important in a 5G world. Fiber-optics is the best technology available to carry the 10's to 100's of gigabit/second flows between the 5G NRs to the network core, and everything in between. Ciena has been successfully driving the innovation agenda in intelligent optical networks for many years – and it's this pedigree that we use to support operators as they transition from 4G to 5G.
That said, in today's hyperconnected world, gone are the days when networks only needed to lay a bigger fixed pipe to handle demands. Software now plays an ever increasing role in helping networks adapt rapidly to handle the demands of 5G. Our
Blue Planet Intelligent Automation Software
, for example, provides a comprehensive, open software suite to help bring intelligent automation to the network through the delivery of a range of end-to-end services with exceptional performance at reduced operational costs. Putting it all together we recently
announced enhancements to our 5G Network Solutions
, which included a suite of new routers and Blue Planet enhancements, both optimized for Network Slicing, to reduce network complexity and increase network adaptability.
I believe that Network Slicing in particular will be key to 5G adoption. Ciena's CTO Steve Alexander recently sat down for a video interview with MWC Barcelona 2020 discussing why this technology is key to 5G deployments today, that you should check out if you're interested.
Why does the network need to be more adaptive for 5G?
Ciena has defined a new approach to the evolution of networking, the Adaptive Network™, which provides a network infrastructure that can scale and adapt to market changes. The Adaptive Network remakes the network into a dynamic, programmable infrastructure built on analytics, automation, and programmable network infrastructure.
As we continue to prepare for 5G, we must realize that every operator is on their own unique journey with unique starting and destination points. With the right upgrades and best-in-breed solutions, both mobile and wholesale operators alike will be well on their way to deliver true 5G to customers and open a new world of communications.