Catch-up with Ciena, Blue Planet, and the hot topics of SCTE Cable-Tec 2021
SCTE Cable-Tec Expo 2021 may be over, but the stories and information Ciena shared is still available to you. Catch up with everything that happened.
The Virtual Cable-Tec Expo 2021 was filled with lots of excellent presentations, discussions and online connecting. Ciena's presence at the event included speakers and a virtual booth with access to technology demos.
We're living in the new normal, using technology more than ever. SCTE Cable-Tec Expo presentations included specific discussions around technologies that have become an integral part of our industry since the pandemic began. You can check out the Keynote speakers, and all the presentations just by creating an account at the Expo site
The cable industry continues to keep society connected during the pandemic. The show spotlight included:
Expanding HFC throughput - evolving bandwidth capabilities towards 10G symmetric with DOCSIS 4.0 and PON
Multi-Access Edge Computing (MEC) – residential, business, and 5G service convergence as cloud resources get closer to the user
Automation – supporting the scale of 10G networks, automating service lifecycle management, improving the customer experience, reducing OPEX (e.g., truck rolls, manual processes)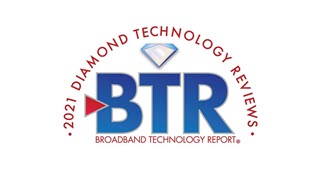 Ciena is proud of the BTR Diamonds awarded to our products during the show. The 17th annual Broadband Tech Report Diamond Awards recognized four of our products. Receiving four diamonds out of a possible 5 were the 3924 and the 5164. Our 3801 and 3802 each received three and a half diamonds out of a possible five.
Ciena's 3924 routing and switching platform is purpose-built for a variety of business or Mobile Backhaul (MBH) environments. Ciena's 5164 Router is purpose-built for 5G networks that converge 4G/5G fronthaul, midhaul, and backhaul (xHaul) networks onto a common, simpler infrastructure. Ciena's 3801 desktop Optical Network Unit (ONU) is purpose-built for residential, Small and Medium-sized Business and Enterprises (SMB/SMEs) with low-cost metro access in mind. And Ciena's 3802 desktop Optical Network Unit (ONU) is purpose-built for Mobile Backhaul (MBH), Small and Medium-sized Business and Enterprises (SMB/SMEs) with low-cost metro access in mind.
Ciena was excited to once again be a very active participant at SCTE Cable-Tec Expo with experts speaking on several exciting topics including automation, scaling networks, service convergence and edge cloud/computing.
The big plus from a virtual show? The presentations are all available beyond the show! Check out these replays of our speakers now.
David Bainbridge (Senior Director, Software Engineering, Ciena) was a panelist on the MAC & MEC: Using the Edge presenting the paper on "Distributed multi-layer infrastructure management for multi-access edge computing (MEC) services" which he co-authored with Marco Naveda, (Senior Director, Office of the CTO, Ciena). He described a framework and implementation to ensure compute, traffic acceleration, and connectivity constraints of a deployed MEC service.
Petar Djukic, (Director, AI & Analytics, Ciena) and Salvatore Torrente, (Director, Enterprise Architect, Blue Planet, a Division of Ciena) participated in a panel called "Advanced Analytics 2 of 3: Advanced Tools for Plant-Wide Data" . Petar shared highlights from his paper "Using AI in network planning and operations forecasting", which has many great general applications. This paper discussed current forecasting techniques, which uses classical machine learning models and describes new alternative techniques based on deep neural networks (DNNs) with network architecture and hyper-parameter search—automated machine learning ("AutoML"). The paper also prescribed a practical method for architecting a network to take advantage of DNN machine learning in the context of forecasting.

Salvatore discussed featured points from his paper "Augmented reality and artificial intelligence approaches for inventory synchronization". The paper proposed an imaginative way to inventory using AR to seamlessly and unobtrusively capture images of network devices leveraging regular maintenance tasks which are analyzed to update inventory databases. It described how technicians are assisted in verifying that a task was performed correctly.
Maryam Amiri, (Senior Network Architect, Ciena) authored a paper on "Reducing the cost of network traffic monitoring with AI". This paper proposed the use of artificial intelligence (AI), deep neural networks (DNNs), and linear optimization to decrease the otherwise massive amounts of data required for network monitoring, and simultaneously increase the coverage of network traffic monitored. For example, rather than monitoring ingress/egress flows, operators can monitor link utilizations and then use AI to infer the volume of ingress/egress flows. In one real-world network, the amount of information collected was reduced by at least 80%. Maryam joined the panel on Advanced Analytics 3 of 3: Proactive and Predictive Maintenance.
Fernando Villarruel (Chief Architect, MSO Practice, Ciena) authored a paper on the "Convergence of services using network slicing: A practical implementation." The paper built on the concepts to his work on a "Framework for Convergence of Services on the MSO Network" presented at the Cable Tech Expo 2020. This presentation gave a close look at implementing FlexE and Segment routing as methods to enable network slicing for DAA deployments and methods to ensure service layer agreements.

Fernando presented key take-a-ways from his paper during the Network Slicing & Multi-Access Edge Convergence: Coming Soon to an Access Network Near You! Session. Fernando also acted as moderator for the HFC Crystal Ball: Methods to Predict Traffic Patterns of Broadband panel.
Ryan Amenta, (Director Field Systems Engineering) participated in the BTR Panel, On the Road to 10G: Where are we? where panelists discussed the current state of DOCSIS technology evolution, where Distributed Access Architecture roll outs stand, the role fiber and next-generation PON technology might play, and how operator strategy should take these parameters into account.
And finally, you can join Alysha Godin, (Vice President, MSO Practice, Ciena) who moderated the panel 5G Architecture and Services: Private Networks, Multi-Access Edge Computing, Ultra-Low Latency and More .
Looking forward to SCTE Cable-Tec 2022 in Philadelphia we are hopeful that we will once again be able to come together live. In the meantime, you can connect with us by reaching out via msoinfo@ciena.com and visiting us at www.ciena.com.