Because you asked. Adaptive IP.
In light of the digital disruption being driven by 5G, IoT, AI, and Edge Cloud, many of our customers have asked us to help them reimagine their IP networks in a way that allows them to scale in a simpler and more cost-effective way. We listened and answered their call with Ciena's
Adaptive IPTM
. Ciena's Scott McFeely explains how this breakthrough approach is delivering IP differently by leveraging automation, openness, and simplicity to give our customers the competitive edge they need from access to metro.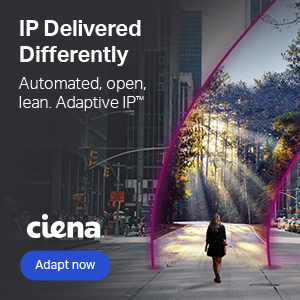 The language of the internet
IP, or more formally referred to as Internet Protocol, is the common language that enables billions of interconnected humans and machines to "talk" to each other on a daily basis for business and consumer applications and use cases. IP is the "language" and foundation of the largest human construction project ever created – the internet – and it works because it's based on open industry standards.
The internet has evolved over time and will continue to do so well into the future, as more humans and machines come online with new and evolving applications and use cases, such as 5G, Fiber Deep's Converged Interconnect Network (CIN) architecture, and IP Business Services. This means that the way IP networks are designed, deployed, and managed also needs to evolve to maintain pace.
IP is constantly evolving over time
Over the decades since its introduction in the 1970s, by the legendary Vint Cerf and Bob Kahn, IP has continually evolved to maintain pace with ever-changing application and end-user demands. This evolution has also led to new RFCs and protocols being standardized, adopted, and deployed within routers (at last count there were over 8,000 RFCs and protocols). It has more importantly led to many of these protocols associated with IP no longer being required, updated, or maintained. This is analogous to human languages where words, phrases, and even whole languages, such as Latin, are no longer commonly used over time.
What do we do with these obsolete protocols? We can eliminate them from modern IP networks to reduce storage, compute, complexity, and operating costs. We call such IP networks "lean" and it allows operators to move away from traditional box-centric IP network designs running ever larger and more complex monolithic software stacks, as many traditional IP vendors have and continue to implement today.
Operators are asking for something different. They are asking for Adaptive IPTM, a leaner and simpler way to deliver IP-based network connectivity.
Expanding IP closer to where content lives
This traditional approach to evolving IP no longer makes sense. Investing in legacy hardware-centric infrastructure, entangled with a monolithic operational system based on proprietary protocols, will not provide the level of flexibility, scale, and intelligence required from the IP layer. New application spaces, such as 5G, Fiber Deep's Converged Interconnect Network (CIN) architecture, and IP Business Services require increasing amounts of IP capabilities provided closer to the network edge, where content lives.
Given the number of network elements is growing exponentially as one gets closer to the network edge, the delivery of standards-based IP connectivity must be highly scalable and optimized, while at the same time making sure cost and complexity will not increase linearly alongside IP bandwidth growth.
Leaner access to metro network elements, coupled with analytics-driven automation derived from real-time streaming telemetry, is a much better way to support expanded IP connectivity, optimize ongoing operating costs, and accelerate service velocity for a faster time-to-revenue cycle.
It's time to simplify by downsizing
Continuing to support obsolete protocols unnecessarily consumes memory, storage, and compute resources, which translates into inefficient consumption of both power and space while complicating provisioning, maintenance, and troubleshooting. Several protocols (ex. RIP, PPP, HDLC, SLIP, and more) are now obsolete, making them no longer required in most cases. This means that they are no longer updated and thus represent potential security liabilities.
Downsizing obsolete and/or unrequired protocols results in networks that are simpler to deploy, manage, maintain, and troubleshoot. This is one of the primary drivers for centralized Path Computation Engine (PCE)-based Segment Routing in that it reduces the need for node-level signaling protocol support by making routing decisions in a centralized manner by overseeing the entire end-to-end network, enabling optimized traffic engineering, troubleshooting, and service velocity. This allows for leaner protocol support on hardware-based routing platforms as capabilities are shifted from box-centric platforms to software-based centralized controllers. Adaptive IP intercepts these simpler, leaner benefits of Segment Routing.

Many network operators – our customers – have recognized the need for a new and different approach to evolving and managing their IP networks. As they struggle to maintain pace with surging growth, coupled with the associated complexity of delivering IP network connectivity from access to core, and everything in between, they told us they're looking for a leaner IP solution as a logical way to streamline and optimize their ever-expanding network assets.
They still want the open and standards-based IP connectivity, albeit in a different and simpler way that's not only leaner, but also automated and open – enabling agile, best-in-breed IP networks for a differentiated competitive advantage.
Last year, we introduced Ciena's Adaptive IP approach, based on our Adaptive NetworkTM vision, specifically to deliver IP differently. The foundation of the approach is lean IP-capable programmable infrastructure supported by multiple Ciena Routing and Switching platforms, but we didn't just stop there.
While 5G, IP business services, Fiber Deep, and other bandwidth-hungry applications are driving the need for more IP at the network edge, the need for more capacity delivered with the lowest power and smallest footprint has also become key. This is particularly true for power/space-constrained DCI applications, as well as outside plant environments for cable access or 4G/5G applications. It is not surprising, then, that we are starting to see demand in the access network and for some applications in the metro for the integration of coherent optics within routing and switching platforms. As part of our Adaptive IP approach, our routing and switching platforms can leverage Ciena's WaveLogic 5 Nano pluggable optics to deliver the industry-leading coherent technology in a footprint and power-optimized form factor.
Intelligent analytics-driven automation
A critical success factor in redefining how IP networks are built is simplification. Operational complexity in IP networks is a critical complaint from customers. To solve for this, we are leveraging analytics-driven automation provided by our Manage, Control and Plan (MCP) Advanced Apps suite.
How does this make things easy? Because our software solutions are designed to abstract the complexity of dealing with multiple IP domains across multi-vendor environments.
For example, our our Adaptive IP Apps, part of Ciena's MCP Advanced Apps suite, captures information about network topology, latency, and routing to create a unified virtual IP network map. This map provides a streamlined, real-time view into how routing behavior is affecting service delivery and acts as a PCE to determine what IP network parts need to be optimized. So rather than having to struggle through a labyrinth of information across multiple domains and vendors, we provide a simplified IP network view right at our customers' fingertips.
To make things even easier, this information can be passed through open APIs to Ciena's MCP to automatically configure service and traffic flows for optimal IP network performance.
Together with our routing and switching platforms, these building blocks create a complete approach offering closed-loop automation that delivers optimal IP connectivity, from access to metro networks.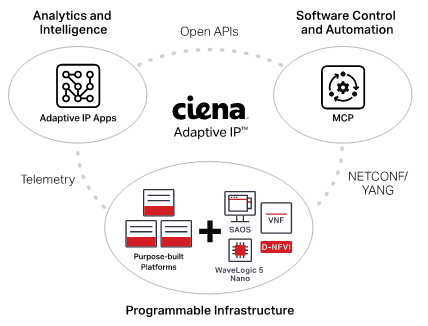 Figure 1: Adaptive IP closed-loop IP network automation, from access to metro
IP networks must be "open" for business
IP is the language of the internet and its common, standards-based implementation is why we can seamlessly engage in eSports, video streaming, instant messaging, virtually hailing taxis, and so much more on a daily basis. Ciena's Adaptive IP approach was designed from inception to be open and standards-based, across all network layers. This allows for easy integration into existing IP networks, from access to metro, ensuring a smooth and elegant migration path. This also allows network operators to gracefully simplify and expand IP connectivity closer to where content is both created and consumed – the network edge – by leveraging open analytics-driven automation to increase service velocity while overcoming complexity.
IP delivered differently
Our customers asked for (and in some cases demanded) a simpler and more efficient way to provide IP connectivity than traditional methods. Some of the largest network providers in the world have already engaged with Ciena to help them deliver IP differently by leveraging modern automation software coupled with lean, open, and programmable IP infrastructure that together is Adaptive IP.
If you're a network operator challenged with providing IP connectivity associated with 4G to 5G migration, Business Services, Fiber Deep, cloud, or edge computing, we can help you reimagine your IP networks today!
Are you ready for a change? Let's talk.