The DevOps Revolution: The "Jig is Up" for Legacy Telco Software Vendors
Ciena Blue Planet is today introducing our new
DevOps Toolkit
.
The Blue Planet DevOps Toolkit
provides a platform to create, modify, test and validate service templates so that service providers can quickly offer differentiated, revenue generating services as well as create and modify resource adapters that allow them to control any physical or virtual device.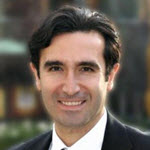 Dr. Recep Ozdag (@DrOzdag) is senior director in Ciena's Blue Planet division, and is a regular speaker at industry events on the topic of SDN/NFV. Today Recep details the importance behind today's unveiling of the new Ciena Blue Planet DevOps Toolkit.
The "jig is up" -- kind of an odd expression isn't it? For our non-English readers throughout the globe, it's an expression that means that a scheme or plot has been discovered or ended.
With that back-drop, we're sorry to announce that the jig-is-up for legacy telco software vendors and their software professional services strategy. What do we mean? Well, in most cases, telecom software is based on the premise that you sell the customer a closed platform for a specific purpose, and then reap the rewards of perpetual software updates and support services. A good example is OSS systems, where the only way to modify, change, or adapt that piece of software is to contact the vendor, engage in a software professional services engagement, and pay millions of dollars in fees to evolve the software.
This has been a cash cow for legacy software vendors and an incredible bane to service agility and innovative operations for network operators for decades.
But this model is unsustainable. Why? On-demand applications, cloud, content distribution, 5G, the Internet-of-Things, are all drastically changing how networks need to operate. The age of static networks and static software are over. Competing and surviving in the on-demand age requires real-time DevOps agility.
DevOps in a Software-defined World
In order to maintain a sustainable advantage in the web-scale and on-demand economy, network operators are learning how to innovate and react faster to competitive threats. An important tool in transforming their business is SDN and network virtualization software technologies designed to orchestrate, automate, standardize and expedite service creation and delivery across multi-vendor networks both physical and virtual.
But this new set of open and programmable software tools are useless without a new agile method of software development. That's where DevOps comes in.
What is DevOps?
DevOps describes the value of collaboration between IT development resources and operations staff throughout all stages of the software development lifecycle for creating and operating a service. This is different from the past where hard lines were drawn between the responsibilities of IT and operations.
In the new, on-demand, software defined world, network operators become more agile and are able to manage their physical and virtualized networks, their devices and the services they offer -- in near real-time. They want to go from concept to revenue very quickly. And this is enabled not just by the software tools they choose, but their ability to use a DevOps methodology to maximize the value of that software.

DevOps reduces the time it takes to go from concept to revenue
Network operators can't get this business agility from their legacy OSS/BSS vendors or solutions, which require significant professional services involvement, often times resulting in extremely costly and very lengthy engagements even for the simplest of changes.
This is one of the reasons many operators are turning to next generation SDN and NFV orchestration platforms like Blue Planet. Blue Planet breaks the silos that are slowing down operations but also brings an open and programmable (DevOps enabled) service orchestrator to the world.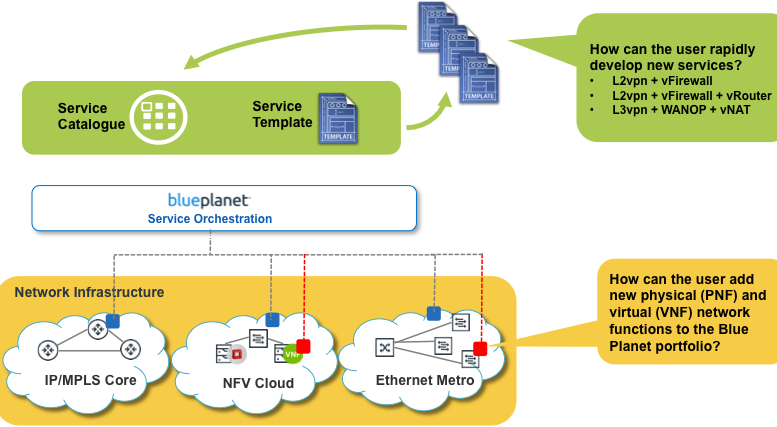 CSPs need to easily change the infrastructure and services for agile business services
Introducing the DevOps Toolkit for Blue Planet
To unleash the full programmability of Blue Planet, today we are introducing our DevOps Toolkit. Our new DevOps Toolkit promises to bring business agility in the form of automation, quick service delivery and full programmability -- freeing network operators from the crippling monolithic systems, costly professional services and lock-in of traditional vendors.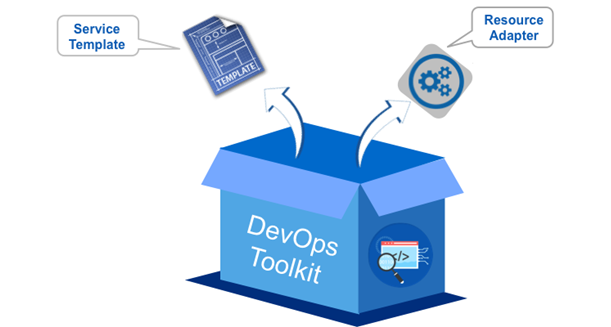 The DevOps Kit brings the much needed business agility to CSP infrastructure
The Blue Planet DevOps Toolkit provides a platform to create, modify, test and validate service templates so that CSPs can quickly offer differentiated, revenue generating services as well as create and modify resource adapters that allow them to control any physical or virtual device.
Let me say that in a different way: Blue Planet already provides WAN automation as well as NFV orchestration across multiple vendors and domains. This helps CSPs enhance their connectivity services with strategic managed service offerings such as virtual router or virtual firewall services.
With the DevOps kit, a CSP can now easily and quickly customize this service by adding other virtual functions or other vendors, thereby, significantly improving their competitive advantage because they can now more quickly adapt to changing business requirements. Not to mention, with the DevOps kit, they can do so without being slowed by costly and lengthy professional services engagements.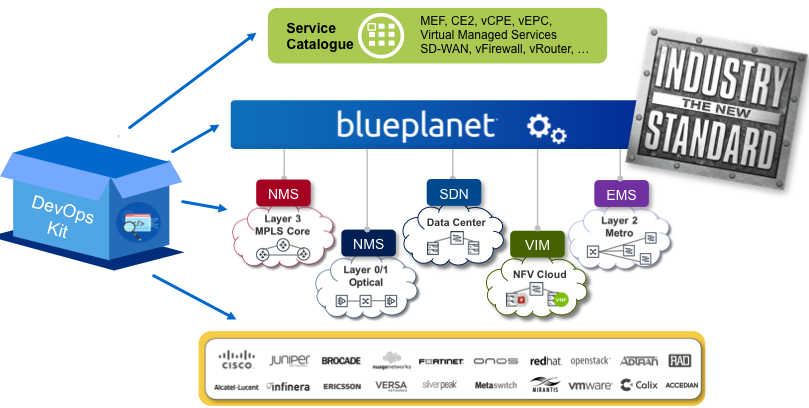 Creating an industry standard platform to deliver value added services
A Community to Develop, Share and Profit
But wait… there's more; as part of the DevOps Tool Kit, we are also announcing an open developer and community portal to bring your ideas to life, share experiences and get support. Customers, users and partners can collaborate, share service templates, troubleshoot and quickly find a solution that will help kickstart their foray into SDN and NFV.
The Blue Planet DevOps Kit work flow
Users can start creating new service templates and resource adapters to talk to new devices in their network or access and reuse those created by other users. Just as with other open communities, developers submit their work back to the public library. The power of the developer community is sure to turn this platform to the ultimate service orchestration platform, catapulting CSPs to take full advantage of the value that is offered by SDN and NFV.
The Blue Planet DevOps Toolkit can be seen in action at a first-of-its-kind live NFV interoperability test sponsored by the EANTC at the Big Communications Event on May 24-25. Stop by the Ciena Blue Planet booth (#610) and talk to our experts to learn more how the DevOps kit can lift the competitive advantage of your business.