Strategies for a total communications solution – Vodafone introduces the Hybrid WAN
Alex Connors of Vodafone details the service provider's new high-capacity Ethernet Services and hybrid WAN portfolio, which uses Ciena gear to enable a wide range of high-performance Ethernet connectivity services.
Vodafone's new high-capacity Ethernet Services simplify network architecture for greater predictability and control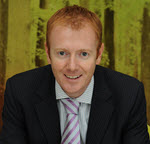 Alex Connors is Head of Fixed Connectivity at Vodafone Global Enterprise
Organisations, regardless of size, are now able to take advantage of on-demand cloud computing and storage resources to become more agile and efficient. For this to happen, though, it is vital that they have a reliable, robust and flexible network.
Vodafone Global Enterprise is helping make this happen; introducing refreshed high-capacity Ethernet Services and creating its hybrid WAN portfolio. These new, high-performance Ethernet capabilities augment Vodafone's fixed connectivity portfolio, which includes internet, IP-VPN, SIP trunking, cloud connect and now high-capacity Ethernet services, for a complete end-to-end solution. With an enhanced hybrid WAN, enterprises can do more than expand their connectivity services; they can create a truly integrated network, embrace new connectivity strategies and simplify architecture for greater predictability and control.
High-performance
Rapidly mounting demands for high-bandwidth cloud applications, diverse data centre connectivity requirements and business continuity plans, alongside the rise of mobile, video, social media, online collaboration services and the Internet of Things (IoT) are causing an unprecedented network shift. What was once a standard, internal network is being stretched as these applications risk exceeding available network capacity. Businesses today need a new approach.
Vodafone's wide range of cost-effective high-speed connections (from Mbps to Gbps) allows enterprises, multi-site and multinational organisations, such as a bank or retail outlet with an online presence, the flexibility to customize their network services. For example, they can scale capacity for higher bandwidth and lower latency Ethernet in and between data centres and enable flexible bandwidth between high street stores, offices or branches. The applications are endless; healthcare organisations can utilise high-bandwidth connectivity for the transfer of very large files, such as MRI scans, and have the capacity needed for compute-intensive analysis. Stadiums and venues can transport massive amounts of live video traffic to production sites without compression and enable live steaming. In finance, Ethernet enables determinism that is vital for predictable performance, especially for security and trading; when ultra-low latency, high-bandwidth connectivity is essential and milliseconds can cost millions.
It's about flexibility
With Ethernet services, multiple types of traffic can be handled simultaneously, be it voice, video or high-capacity storage traffic. This means that business-critical data and applications can be shared and delivered to users with the preferred level of performance and security they need and expect. Ethernet services helps enterprises to maintain their desired level of control and, as its configurable in nature, also safeguards against congestion. This all ensures that the enterprise network can align with business priorities, operations and objectives, from high-capacity projects, including big data analytics and high-bandwidth content services for video and business continuity to imaging, computer-aided design and manufacturing (CAD/CAM).
By partnering with Ciena and leveraging its converged packet-optical platforms and OPn® network architecture approach, Vodafone can now offer this extensive variety of high-performance enterprise services. These solutions lay the foundation for emerging connectivity features such as Network Functions Virtualisation (NFV) and Software Defined Networking (SDN), in turn enabling advanced on-demand capabilities, such as self-service provisioning and virtualised WAN services. For example, network virtualization, orchestration, and management software platforms ensures greater efficiency, automation and agility while facilitating a complete on-demand solution for virtualised networks and services for even greater control and choice.
Connecting locally, nationally and internationally
By fully utilising Vodafone's global network these adaptable, programmable and flexible Ethernet services enhance its fixed network footprint in 69 countries, and help multinational organisations confidently connect all their people, places and things.
With an advanced converged packet-optical portfolio as part of its total communications solution Vodafone Global Enterprise's new Ethernet services ensure a strong and resilient IT infrastructure. These services underpin the wired, wireless and cloud demands of the mobile workforce, and bring the scalability to the enterprise network for flexibility, productivity and exceptional end-user experiences.
Upcoming Events
Alex Connors, Head of Fixed Connectivity at Vodafone, John Hawkins, Ethernet Product and Technical Marketing at Ciena, and Daniel Bar Lev, Director of Certification and Strategic programs at the MEF, will be hosting a series of webinars highlighting Vodafone's high-capacity Ethernet Services. 'Ethernet Services: The Total WAN Solution' - the first webinar, will take place on May 4,2016 at: