Our Gift to You: Ciena's Ultimate eBook Holiday Bundle is Here
Just in time for the holidays, we've made our three most popular technology eBooks available for download, and added two new reference guides, all in one bundle.
OOPS! This offer has expired, but that doesn't mean you can't get some of these great resources. Just visit our eBook Resources page to find what you need.
Have you been good this year? Ready to give yourself a present you know you're going to like? Ciena has you covered. But hurry, this gift disappears with the new year.
We know how hard so many of you work maintaining your networks and juggling the countless demands of your customers and stakeholders all year. As a thank you to all our Ciena friends and partners this holiday season we're announcing this one-time-only holiday eBook Bundle just for you. Here's what you'll get:
Carrier Ethernet Essentials eBook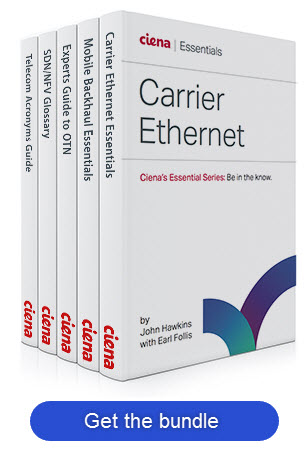 Raise your carrier Ethernet IQ with this comprehensive overview intended for anyone seeking a better understanding of this core networking technology. In this 50+ page reference, you'll learn the history, standards evolution, best practices and use cases, plus how to leverage Carrier Ethernet to connect to the cloud and more.
Mobile Backhaul Essentials eBook
If soaring demand for your MBH resources is putting a strain on your network's capacity and performance then you'll want to grab this eBook on Mobile Backhaul. You'll learn the evolution of wireless access technologies and how the MBH network landscape is changing (and where it's going).
Experts Guide to Optical Transport Networking eBook
Think you're an OTN expert? Migrating away from your legacy SONET/SDH architecture? This eBook gives an in-depth look at the technical underpinnings and architecture of OTN networks. You'll learn about cost savings and performance increases, lowering latency, network manageability and more.
SDN/NFV Glossary
Network virtualization is hot. And with any new technology, it's hard keeping your LSO's and HAL's and your VIM's and vOAM's straight isn't it? This guide will be a very welcome addition to your professional library especially if you've ever wished there was one go-to source for looking up SDN/NFV terms.
Telecom Acronyms Guide
Clocking in at over 30 pages and 2,000 total acronyms, this is the ultimate companion! Better than an Internet search for getting the answer you need for your contextual acronym lookup, this is one of the most comprehensive and helpful resources out there and will prove to be one of your top favorites downloads of the year. This is the guide you've been looking for.
You'll get all three eBooks plus the brand new SDN/NFVGlossary and updated Acronyms Guide bundled together in one simple download page. But this bundle is only around for the holidays, and it's the only time all five of these resources have been bundled as one.
So take a break from your holiday shopping and let's make sure you get something you're going to love in your stocking this year. Happy Holidays from all of us at Ciena.
PS - give a gift too, share this great offer with your friends and colleagues this holiday season.