New Cignal AI report looks at past, present and future of coherent technology
Cignal AI has published a new report, "Tracking the Deployment of Third Generation Coherent". Don't miss your chance to download it and learn about the latest transition in coherent technology.
"So, what's next?" Is this a question you have asked – or more importantly been responsible to answer when it comes to the optical technology you are using in your network?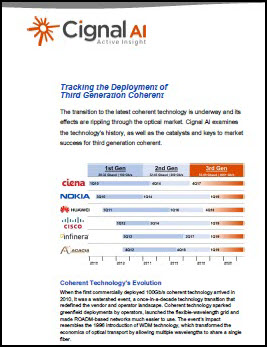 If so, you don't want to miss this new report from analyst firm Cignal AI, "Tracking the Deployment of Third Generation Coherent", where lead analyst Andrew Schmitt examines the state of coherent technology, its history, as well as the catalysts and keys to market success for the most recent generation of coherent technology.
Today's third generation coherent has already arrived in the form of single-wavelength 400G-capable technology designed to keep pace with the tremendous pace of data growth. As one example, Equinix has forecast that by 2020, interconnect bandwidth will grow up to 5,000 Tb/s, with double-digit growth rates.
This Cignal AI report shows that the transition to third generation coherent technology is underway, and its effects are being felt throughout the optical market.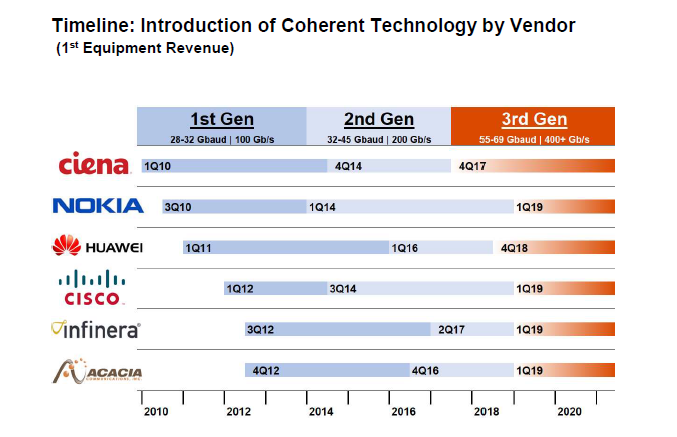 Are operators really using this next-generation of coherent already?
The short answer is yes. As we have shown, 400G industry adoption is taking off. In this report, you will learn about how widespread this technology has become, in what time frame and how much this next-generation of coherent technology is forecast to account for in 2019.
"Looking to 2019 and beyond, we anticipate that 3rd gen coherent solutions will account for almost all coherent market growth."- Cignal AI
It isn't just about capacity though. Cignal AI looks at how coherent technology has evolved and become more sophisticated with each generation, giving network operators what they need to deliver value to their customers.
Want to learn more?
Interested in learning about coherent technology's evolution, market success and the road ahead? Then download this report from Cignal AI.