Karl Horne Q&A: MDSO is the Key to Rolling with the Changes of SDN/NFV
In our newest eGuide, New Adventures in Network Orchestration, Ciena's Chief Technology Officer for the Asia Pacific region, Karl Horne, provides insight into how multi-domain service orchestration (MDSO) plays a crucial role in helping networks keep ahead of accelerating change rates brought on by SDN and NFV. From leveraging extensibility to giving operators better end-to-end control, this Q&A sheds light on the secret weapon of network change management: MDSO.
Featured in a recently released eGuide to SDN and NFV, Karl Horne—Chief Technology Officer, Asia Pacific—explains how multi-domain service orchestration (MDSO) is crucial to helping networks keep ahead of accelerating change rates.
Q: What kinds of changes are impacting telecom networks today?
Karl: Change is "business as usual" today. New users, mobile devices, cloud services, and the Internet of Things (IoT) are all having an impact on network performance as demand for bandwidth is skyrocketing. New users will expect new applications that are "instant-on," multi-media, and interactive. These users also demand highly available access to anything, anywhere, and at any time. This has led to the need for new services, which are formulated to be on-demand, elastic, and pay-as-you-go.
Delivering new services to keep pace with demand also increasingly requires an upgrade to underlying network technology, including SDN and NFV, and new architectures that incorporate both physical and virtual components. The rate of change is also accelerating. Network operators must find a way to adapt, so they can embrace and leverage this evolution under way and deliver more and better services, quickly and efficiently. This is their best opportunity to boost their businesses, both top and bottom line revenue in the process.

Q: How can MDSO help operators meaningfully embrace the changes taking place?
Karl: Multi-domain service orchestration (MDSO) is pivotal to embracing change. First, MDSO can be used to help network operators simplify and automate network functions and integrate IT operations. MDSO provides a unified interface that enables operators to control their networks using software. This in turn allows them to automate many currently manual network operations and accelerate the pace of service delivery.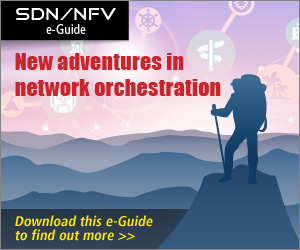 Second, MDSO helps operators leverage extensibility. An MDSO platform can help operators easily accommodate new resources. In other words, MDSO allows for new and legacy networks, networking equipment, and even new virtualized network functions to be systematically added and integrated. Once integrated, any new resource can then be combined with other resources to create new automated and customized service offerings.
Third and finally, MDSO gives operators better end-to-end control of their networks and services. Today's operators are very reliant on networking equipment vendors for these functions/features, along with the specialized professional services of OSS/BSS vendors who provide integration into those operational systems. MDSO can help operators break this cycle by enabling DevOps-style programmability that allows operators to customize and automate networks and services on their own, without the need for costly, time-consuming professional services and support.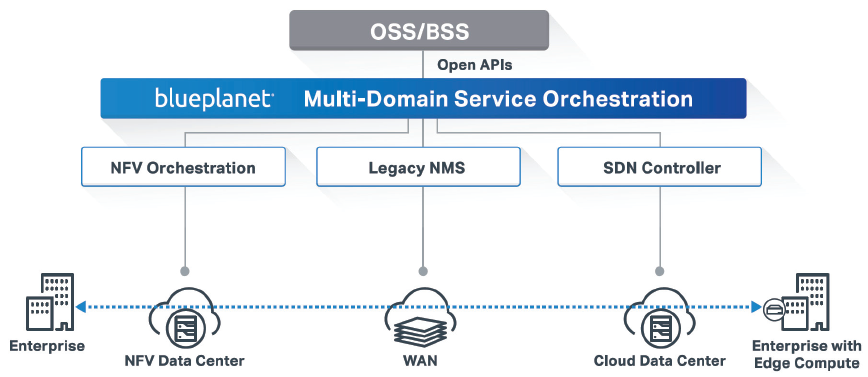 Q: How can orchestration accelerate different aspects of their businesses?
Karl: MDSO provides end-to-end visibility and control of network services. For example, MDSO can be used to shrink the time it takes to turn up a new service, even one that spans across multiple domains, including WAN, virtualization, and cloud environments. Operators can leverage MDSO to accelerate the pace of delivering new or better on-demand services, effectively differentiating themselves from other competitors and shrinking their time-to-revenue.
MDSO also provides a model-driven templating environment whereby users incorporate new resources, such as networks, networking devices, and virtualized functions. Once these elements are integrated, the new network resources can be combined with other resources to customize and create new orchestrated and automated services that function across the multi-domain environment. As a result, operators can use MDSO to add new technologies and offer new services, quickly and easily, to better meet the needs of their customers.
Q: What kinds of services and markets can MDSO enable?
Karl: The services and markets enabled by MDSO are almost limitless. MDSO gives operators the agility and control they need to define and deliver services as needed to meet the evolving requirements of their customers. The simplicity and automation achieved by implementing MDSO can help operators build new elastic, on-demand services. These are the types of service offerings that are built to be deployed at "cloud-speed."
MDSO also enables virtualized managed service offerings. This can include simple managed offerings such as firewall or routing services. But it can also include more complex managed offerings such as mobile-evolved packet core networks or content delivery networks. Ultimately, MDSO can be used to create a portfolio of high-value, customized cloud services. In this vein, MDSO would be used to integrate high-performance connectivity with virtualized routing and security features, along with storage, compute and/or analytics functions.
Q: What challenges do operators face in implementing MDSO?
Karl: The biggest challenge facing operators is choosing the best SDN/NFV orchestration platform for their needs. Most operators have been using monolithic, legacy OSS/BSS systems for many years. These platforms lead to complicated, brittle, and proprietary environments. Industry research shows that operators almost unanimously agree their OSS/BSS platforms are not keeping up with the pace of change required to meet today's network demands.
Meanwhile, some operators are migrating to a specific vendor's SDN/NFV solutions, which once again lock them into a single approach. Industry observers are now beginning to realize that the best way to embrace SDN/NFV is through a commercially supported MDSO platform that is open, extensible, and proven to be vendor-agnostic. Increasingly, operators understand that by leveraging MDSO and gaining better control of their networks, they can transform their operations and derive the full benefits of SDN/NFV.
Q: Do you see APAC operators leading or lagging in adoption of orchestration? Are there unique challenges or drivers for APAC operators?
Karl: The adoption rates vary across Asia Pacific countries. For example, operators in markets such as Japan, Australia, Singapore and Hong Kong are leading (or at least on par with) the best in the rest of the world. Meanwhile, in other markets, network operators are definitely lagging, although some countries, such as India, are about to surge forward in their adoption of orchestration. Overall, the challenges or drivers are considered obvious and not unique to the Asia Pacific region. There is a push, and early adoption of 5G/IoT in Asia Pacific countries is helping to boost the urgency of adopting orchestration as well.
To learn more about network orchestration and the benefits of implementing SDN/NFV, download Ciena's newest eGuide, New Adventures in Network Orchestration today.