How well do you know Ciena's 6500 Family of Packet-Optical Platforms?
Sure you have heard of Ciena's 6500 family of packet-optical platforms, but do you really know each member of the family and how they deliver scale, flexibility and openness to enable a programmable infrastructure foundation for the Adaptive Network? Ciena's Paulina Gomez makes sure you are up-to-date on the members of the 6500 family.
I just got back from a summer family reunion where I had a chance to meet some new family members for the first time. Back at work, it made me realize that as popular as Ciena's 6500 is, perhaps not everyone is acquainted with the entire family of 6500 Packet-Optical Platforms.
The 6500 is one of the most recognized and successful packet-optical transport products in the industry. With more than 115,000 nodes deployed by more than 600 operators, the 6500 underpins service provider, cloud and content provider, government, research and education as well as enterprise networks across the globe.
Since its original introduction, the platform has been in a constant form of evolution, leveraging the latest technology innovations to add new capabilities and chassis configurations, to provide customizable service delivery from the metro edge, between data centers, along the backbone core and across ocean floors.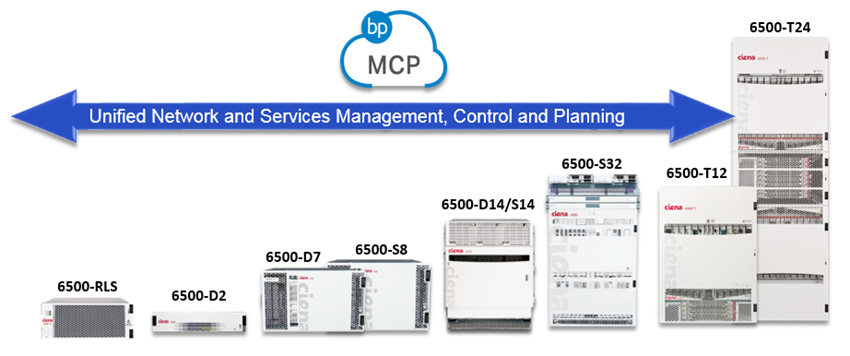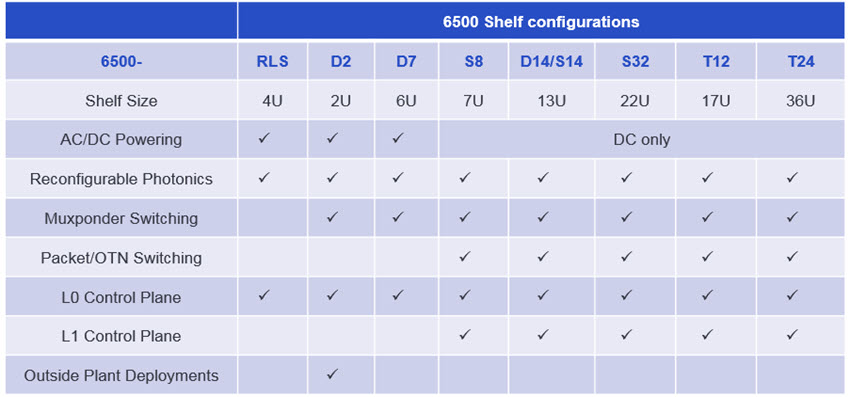 Here is a high-level overview of Ciena's 6500 family of packet-optical platforms:
6500 D/S-SeriesThe 6500 D-Series and S-Series shelf configurations are the founding members of the 6500 family of packet-optical platforms which integrate packet, OTN, and flexible WaveLogic Photonics capabilities in a single platform, to help streamline operations and optimize footprint, power, and capacity to meet specific site requirements.
One platform, full flexibility
These shelf configurations come in multiple chassis form factors, from a compact 2RU up to a 22RU node.

The smaller shelf configurations offer both AC and DC power options, addressing a wide range of end-customer locations, including extended temperature solutions extending services even closer to the edge.
The flexibility of the 6500 doesn't end here - the full range of services including Ethernet, OTN, Fibre Channel are supported - from DS1/E1 to 100 GbE/OTU4 – over any distance. Integrated AES-256 encryption capabilities that meet the highest recognized security standards, which include Common Criteria and FIPS certification, are also available providing operators a simple way to safeguard all of their in-flight data against breaches.
Additionally, various line and equipment protection options are available and can be combined with both L0 and L1 control planes to help providers support a tiered Service Level Agreement (SLA) and differentiated service offerings.
Highly Programmable Optical LayerAn important benefit of the 6500 is that the same platform can be tailored to cost-effectively address

applications from 2.5G to 400G DWDM and beyond. The full range of photonic architectures is offered, from passive fixed filters to any ROADM configuration, including flexible grid Colorless, Directionless, Contentionless (CDC) ROADMs that enable an agile photonic foundation with unrestricted re-routing of wavelengths across the network.
The platform offers a range of interchangeable interfaces equipped with Ciena's industry-leading WaveLogic coherent technology that can be programmed to optimize the capacity versus reach equation, to address any application.
For example, the coherent 400G muxponder (MOTR) and flexible service (FOTR) modules, leverage the power of Ciena's WaveLogic Ai coherent modem to offer the widest range of tunable capacities in the industry, from single carrier 100G to 400G in 50G increments, with embedded real-time link monitoring capabilities, allowing operators to rapidly determine exactly how much margin is currently present in the network, as well as the optimal capacity they can deploy over any link.
Maximum Efficiencies with Packet and OTNThe 6500 supports both muxponder and central fabric-based packet and OTN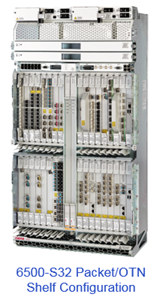 switching solutions such that operators can cost-optimize the configuration based on their traffic requirements. A key advantage of deploying a packet/OTN switched architecture is the decoupling of the client and line, which allows for fast service turn-up, a key building block for enabling a more dynamic, adaptive network.
The 6500 S-Series shelf configurations are equipped with an agnostic, centralized packet/OTN switched fabric, scaling from 600Gb/s to 3.2Tb/s of switching capacity. A handful of 6500 OTN, packet, and hybrid packet/OTN interfaces support a wide range of protocols, allowing for rapid response to service requests and faster time to revenue, even in an unpredictable environment. For maximum bandwidth efficiencies and scale, ODUFlex mapping, which allows for in-service adjustable bandwidth containers in 1.25G increments, can be used.
Open Programmability and Intelligence
The 6500 features full instrumentation and embedded intelligence across all layers and is equipped with a full suite of common open APIs to support today's requirements for open programmability, automated provisioning and streaming telemetry. To help enable a programmable network foundation that can support changing service requirements, the 6500 leverages Ciena's OneConnect photonic and OTN control planes, that allow the transport network to automate and distribute many functions formerly performed through a combination of centralized management systems and manual processes. Additionally, Ciena's Blue Planet Manage, Control and Plan (MCP) provides end-to-end network and service lifecycle management with which operators can rapidly plan, provision, turn-up and troubleshoot multi-layer services.
6500 T-Series: Terabit Packet/OTN SwitchingThe 6500 T-Series shelf configurations inherit the same robust, feature rich software and integrated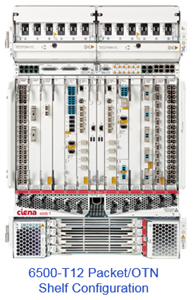 capabilities that distinguish the 6500 family, combined with Terabit-class switching. Designed to address the increased scalability required at ultra-high-capacity switching sites in the network, the T12/T24 shelf configurations also provide significant power and space savings, delivering Terabit switching per slot in a very dense form factor.
The T12 provides 6Tb/s of capacity in less than half a rack, whereas the T24 provides 12Tb/s per rack, scaling to 24Tb/s of nodal capacity in the future. The T12/T24 configurations support a modular photonic architecture that includes hardware with the ability to flexibly route wavelengths without restrictions across any one of 16 paths, leveraging flexible grid CDC ROADMs.
6500 Reconfigurable Line System (RLS)
The latest sibling of the 6500 family is the 6500 RLS, a modular line system designed to provide advanced programmability and openness, that scales from the smallest to the highest network bandwidth requirements. Don't let its compact size fool you, the 6500 RLS provides highly dense ROADM and amplifier configurations to tackle today's fiber densification challenges, offering pay-as-you-grow flexibility as nodal capacity requirements increase.
The 6500 RLS has the flexibility to fit into a variety of line system applications, whether integrated or disaggregated, and offers the ability to double fiber capacity with its integrated C&L-band architecture. It can be configured to operate as a fully integrated system running Ciena software components, and it is also architected to support third-party stand-alone software components— bringing a new level of openness and programmability to the photonic layer that has not been seen in the industry until now.
There you have it – a high-level overview of Ciena's market leading 6500 family of packet-optical platforms, designed to drive on-going efficiency, scalability and programmability required for a more adaptive network.