EdTech update: The Adaptive Network for Education in Australia
Ciena's Andrew Roberts details the principles of building a network for education that provides operational efficiency and the ability to adapt to unpredictable changes in the educational landscape. This is part 3 of a 3-part blog series on EdTech in Australia. Parts 1 and 2 can be found
here
and
here
.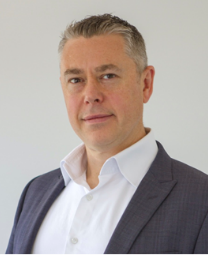 In the previous blogs in this series (here and here), we learned that reliable, responsive, and resilient networks are a foundational requirement for enabling EdTech. We also know that dependable, high-speed internet connectivity is critical to the success of Australia's schools and students. We discussed the need to design networks that can adapt to growing demands for connectivity and bandwidth and that will become increasingly crucial as we face the rest of the school year and beyond.
How can educators build a network that will meet the needs of learning today, but also evolve to meet the requirements of a future that is yet to be realized? In this blog, we'll cover:
The Adaptive Network™ principles, and how to apply it to EdTech network architecture
Operational efficiency, and improving it through 'single pane of glass' visibility into your network
How both educators and service providers can adapt to unpredictable changes to the educational landscape, and the related criteria for network decision-making
The Adaptive Network
Ciena has created the Adaptive Network—a framework that allows networks for education to be designed to meet immediate network needs, while providing a platform that can evolve as demands change.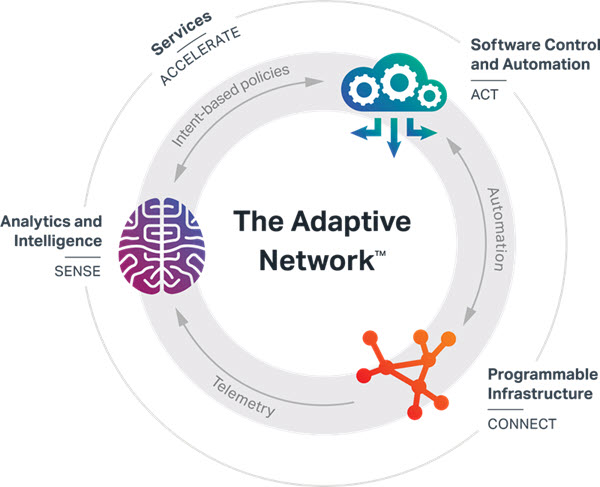 The Adaptive Network is built on key foundational elements:
Programmable Infrastructure (connect): Programmable networking infrastructure that

Can be accessed and configured via common open interfaces
Is highly instrumented, with the ability to export real-time network performance data
Can adjust its resources as needed to meet the demands of the applications running on top of it and optimally connect end-users

Analytics and Intelligence (sense): Collecting network performance data, and analysing this data using Artificial Intelligence (AI), provides the ability to more accurately predict potential network problems and anticipate trends by turning mountains of data into actionable insights. Leveraging these insights can help network providers develop smarter, data-driven business policies that enable them to sense and adapt to customer needs securely, and in real time.
Software Control and Automation (act): Multi-Domain Service Orchestration, federated inventory, and centralized, software-defined control of individual domains are critical to adaptive networking. Through the implementation of SDN, NFV, and open APIs, network providers can simplify the act of managing and automating their networks end to end, across multi-vendor, multi-domain hybrid networks.
The Adaptive Network delivers on requirements for networks supporting EdTech as outlined in the following table: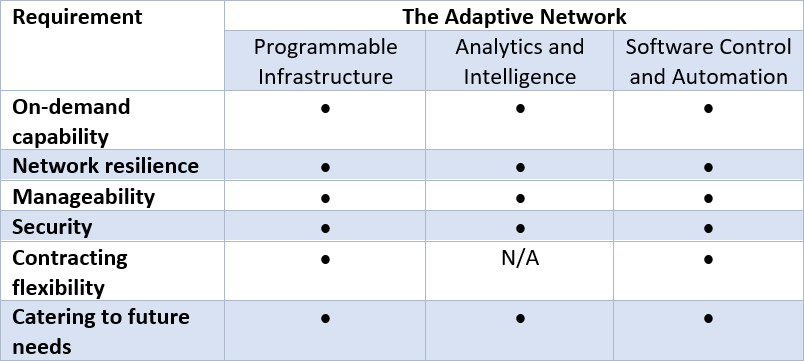 The figure below provides an overview of a sample network architecture in support of EdTech that has the following characteristics:
Network edge devices (e.g. Customer premises equipment or CPE) are located at schools, universities, and offices. They commonly feature 1GE, 10GE, or 100GE uplink ports, as well as access ports, which provide connections to in-school IT infrastructure (such as routers).

Increasingly, 'programmable CPE' are deployed to provide future capability (such as virtual routing, firewalls, etc); programmable CPE can be configured with capability on an as-required basis, affording educators an ability to access new network functions without replacing edge equipment (shown as 'School of the Future CPE' in the diagram)

Aggregation devices collect traffic from schools and offices; they are often deployed in protected architectures (such as ring-based topologies), providing a highly reliable service to school areas (shown as 'Access Ring' and 'Regional' in the diagram).
Core networks provide ultra-high capacity connectivity to school districts; these often capitalise on DWDM to offer extremely high bandwidth (Tb/s and beyond); DWDM networks are also typically extremely highly reliable and tolerant of failures (shown as 'Metro' in the diagram).
Network management infrastructure – key to keeping networks operating and allowing operators to respond to changing needs of school areas.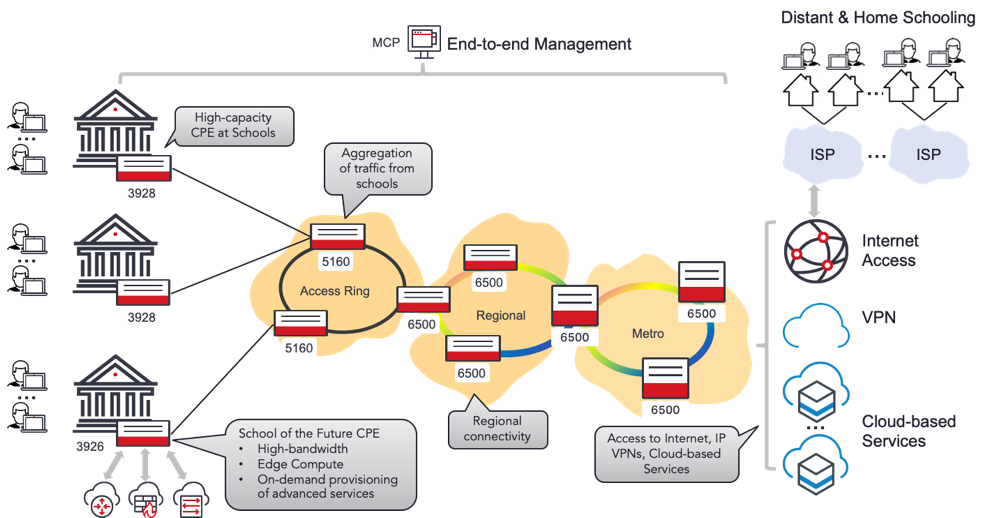 Ciena has worked with its partners to build networks supporting millions of students and teachers to meet future needs. For example, Cypress-Fairbanks Independent School District (CFISD) in Houston, Texas understood that in order to prepare students for an increasingly global and digital society, it had to implement eLearning initiatives that synchronized with a generation who has grown up in a tech-centric environment. Ciena worked with CFISD to build a 100 Gb/s network for the district to support every student's potential through rigorous and relevant learning experiences.
Operational Efficiency
Networks typically consist of technologies and solutions from multiple vendors. This can result in complex 'swivel chair' operations—where different options teams need to access different operating and support systems to plan, provision, and assure services. This operational complexity can make it slow to diagnose and resolve issues. Worse, operations staff may not even be aware of issues until the customer calls.
'Single pane of glass' operations are key to ensuring effective manageability of all aspects of network and service lifecycle—from service creation, modification, assurance, and fault management, through the ongoing optimization. Different models exist in transitioning to simplified operations, including:
Utilising an umbrella operations environment (such as utilising an orchestrator or domain controller) to unify operations across vendors, or
Utilising a single vendor across all network domains
There is no 'right' answer, but what is clear is that operational efficiency should be a primary concern when designing networks in support of EdTech.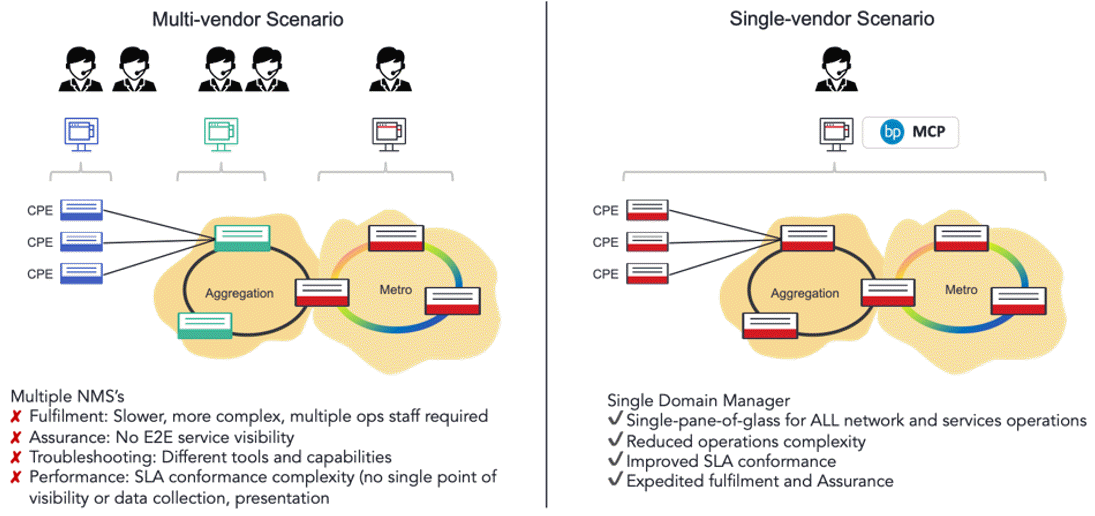 Recommendations for Educators and Service Providers
For both educators and service providers, the key is to be adaptable. It is not possible to foresee what the future in EdTech will bring, but educators and service providers can prepare for it.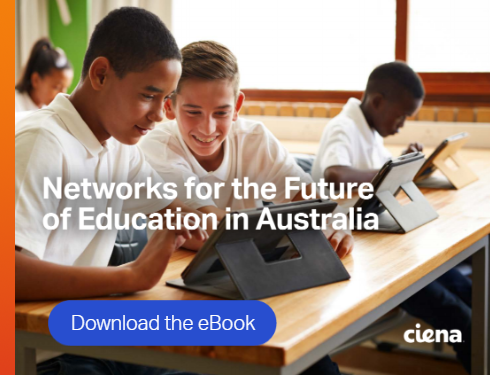 For educators, new tools and ways of teaching will drive changes. Seek a service provider that can adapt to changing needs:
Grow with demand – seek network partners that can scale with your need and with a record in scaling; seek 'bandwidth-on-demand' capability and flexible contracting
Flexible traffic flows – as education moves from a hub-and-spoke (such as video consumption) model to a more collaborative model (peer-to-peer), ensure your networking partner offers a topology and flexibility to accommodate changes
Integrity – network partners should demonstrate infrastructure and process reliability; backup connections, backup sites, and operational integrity should be verified; consider how onsite and cloud-based operations may be impacted by network integrity
Security – must be assured to protect students, teachers, and school property
Features – requirements may change over time; simple service add-ons (such as firewalls, IP VPNs services) may evolve to a need for new paradigms like edge compute; ensure networking partners can accommodate
Contracting and service structure – should be flexible to allow for changing needs, including bandwidth, flows, security, networking, and features
For service providers, build infrastructure than can evolve with educators' requirements:
Bandwidth growth and flexibility – be accommodating of bandwidth growth; provide tools such as 'bandwidth on demand' to allow educators flexibility as their needs change
Flexible with connectivity – traffic patterns are changing based on EdTech adoption; be flexible accommodating changes; tools such as allowing for 'service on demand;' accommodate fast service turn-up and change
High reliability – as networks move from nice-to-have to necessity, delivering high-reliability features (dual site, dual link, operations processes, etc.) with matching SLAs is key as a differentiator
Analytics + visibility – employ tools that can aid in service and network visibility; for example, analytics can be utilised to monitor for changing traffic patterns and proactively adjust services before users are impacted
Security – offer tools and processes to protect students, teachers, and school property, including options for encrypted connections, private networks, and core and edge protection, as well as tools/services to assess security risk
Flexibility in contracting – make it easy for customers to evolve their services; 'on-demand' network capability should be matched with flexibility in business constructs
Want to learn more?
If you wish to discuss more about the Adaptive Network for education in Australia, contact me or my teamate Willie Low.