Dealing with packet networking complexity? It's time to evolutionize.
Network operators cannot continue building packet networks in the same traditional manner and be able to support new and emerging high-growth applications. Ciena's Scott McFeely explains how new significant enhancements to Ciena's Packet Networking portfolio will help you to accelerate the modernization of your legacy network to the packet network of the future.
As I travel around the world meeting with our customers, I hear time and time again about their continued struggles building and maintaining packet networks.
Today's TDM and Packet (Ethernet/IP/MPLS) networks are too operationally complex, making them costly to operate, which results in a slower time-to-market and growing inflexibility to successfully address changing customer demands. Networks still lack the automation and agility to rapidly deploy new services.
If operators are to succeed, they need to make changes – now. The traditional approach to building packet networks, from access to metro, just isn't up to the task.
A new way forward
At Ciena, we believe that the future belongs to the adaptive – those who do more than just recognize the need to modernize, but who see the need to actively "evolutionize" their packet networks toward a more virtual, modular, and automated design.

To help our customers do just that, we've announced today significant enhancements to our Packet Networking portfolio with 'Adaptive IP', support for coherent optics, and several new purpose-built hardware platforms. We're strategically investing to help our customers elegantly migrate from complex legacy networks to more modern, adaptive, and automated packet-based networks, allowing them to effectively support key growth areas such as:
4G/5G
TDM/L2/L3/VNF Business Services
Next Generation Cable MSO Access (Fiber Deep)
So, what's new?
Ciena Adaptive IP to future-proof your business
If someone needed to reach you fifteen years ago they could call your landline, page you, try your car phone, and then maybe call your office. It was great that there were so many options to reach you – but it really just made things more complicated and didn't provide the flexibility life demanded. Today, smartphones streamline all of these options making your life far less complex and exponentially more flexible – but the same needs are still supported.
If operators are to succeed, they need to make changes – now. The traditional approach to building packet networks, from access to metro, just isn't up to the task.
That also explains why traditional rigid IP-based solutions are no longer the best path forward. They've been designed for how we used to use networks, not for how we use them today. We need to look forward while not losing critical features. A new way of scaling and simplifying IP-based access to metro networks is required – one that is streamlined, virtualized, automated, and far less operationally complex.
We call this new approach Adaptive IP.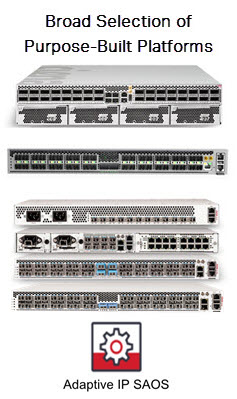 With Adaptive IP, we're helping operators and enterprises improve service velocity with faster deployments, updates, and changes to reduce the total cost of network ownership. How is this achieved? By removing operational complexity, while eliminating the overhead of power, space, memory, and processing capacity required to support traditional (legacy) IP implementations. Our IP implementation allows for automated network configuration, performance management, and optimization with near real-time telemetry information generated to assess network health.
Adaptive IP is enabled at the programmable infrastructure layer by our Service Aware Operating System (SAOS) packet software. It is implemented via a modular and disaggregated microservices-based architecture offering an intelligent automation operating system (OS) that incorporates programmable cloud-based technology and open interfaces. This streamlined architecture allows operators to differentiate with new and innovative services by enabling a DevOps-based development cycle that can be adapted to specific use cases.
We've also added to Ciena's existing Blue Planet Management portfolio new Layer 3 Route Optimization & Assurance capabilities obtained from the recent acquisition of Packet Design for improved network designs, operation, and management, from end-to-end and from Layer 0 to Layer 3.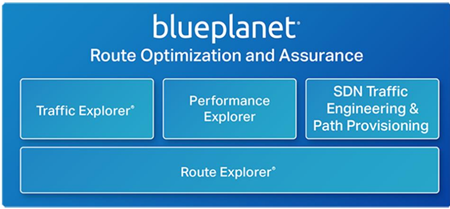 Coherent optics: Providing the modern Packet Network with greater capacity and reach
We're also adding support for coherent optics to several of our Packet Networking platforms, a game-changer that allows for more parts of the network to benefit from this optical technology. It will allow for rapid, cost-effective scaling to address ongoing bandwidth growth, specifically toward the network edge. Supporting coherent optics simplifies network designs with notable reductions in power, space, cost, and overall operational complexity.
Getting the right platform for the job
As I mentioned, we're also introducing several new purpose-built hardware platforms, including theSAOS-enhanced 5162 and 5170 Service Aggregation platforms supporting our Adaptive IP. Why? Because each application space has a different personality resulting in different platform requirements. If we offered a one-solution-fits-all platform, it would not be optimized for any application space. Instead, we have optimized our platforms to meet the needs of specific applications in key areas of market growth.
Our purpose-built platforms offer an optimized mix of speeds, feeds, switching capacity, indoor/outdoor environmental tolerances, timing, and other features that are simple to deploy, manage and maintain. Most importantly, they provide the necessary programmable network infrastructure to ensure network operators can deploy today's (and tomorrow's) software capabilities, while laying the foundation for the Adaptive Network.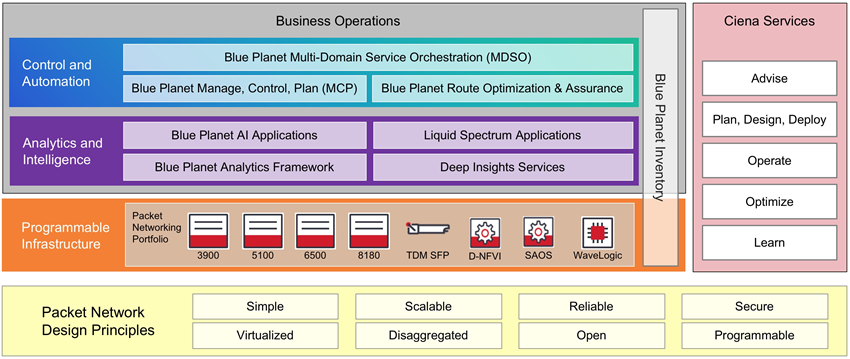 Modernizing TDM Services Transport
We're not suggesting a new way of doing something because we want to or because it fits our vision, but because it simply must be done. End-to-end TDM (SONET/SDH/PDH) networks are prohibitively expensive to support and lack the required capabilities to address current, emerging, and future applications. This situation is exacerbated by dwindling product support and replacement spares for networks deployed decades ago.
With our new capabilities and the introduction of the 6500 Packet Transport System (PTS) that complement our existing 3926m TDM Module and suite of TDM-to-Packet SFPs, our customers' customers can retain their desired TDM services, and providers can more cost-effectively transport them across a modern packet network.
Let's take this journey together
All of this may seem daunting, and it certainly won't happen with a simple software upgrade or deployment of a new piece of hardware. This is why our broad suite of Professional Services and experts are so important. We offer a services-led approach to help network operators evolutionize their packet networks. Regardless of a network operator's strategy or stage of modernization, our Professional Services experts can guide our customers through their particular journey to ensure they achieve their unique business objectives.

We're constantly working with our customers to redefine what's needed from their packet networks, from access to metro, to address new and emerging applications and business opportunities. By offering new capabilities that streamline packet network designs to reduce overall cost and operational complexity, our Packet Networking portfolio provides operators with an open, scalable, and programmable infrastructure layer that is foundational to an adaptive network that grows smarter, more agile, and more responsive every day.
Change doesn't have to be scary. At Ciena, we're investing to ensure our customers are successful and can unlock the potential of their packet networks – let's get started.