DAA takes center stage at SCTE Cable-Tec 2018
Did you miss SCTE Cable-Tec Expo? Were you running from meeting to meeting and missing sessions? Ciena's Darren McKinney has you covered – he explains how Distributed Access Architecture (DAA) dominated the show, but also what topics you need to be thinking about next.
Distributed Access Architecture (DAA) remains a very hot topic for cable MSOs, and this should not be surprising given it is a critical and transformational change enabling them to better compete. This fact was obvious as I attended the 49th SCTE Cable Tec Expo event held in Atlanta. I attended several sessions on DAA, and quickly learned that if you did not show up early you would be standing or miss out. Did that happen to you too?
Well here are some of the critical topics discussed at the show.
The DAA sessions covered many aspects of extending digital fiber nodes (remote PHY, remote MAC/PHY) closer to the end user and virtualizing functions traditionally done in the headend (e.g. vCCAP, vCMTS) to deliver higher bandwidth, a better customer experience and reduce operational complexity. A common theme in the DAA sessions were network diagrams showing the headend, hubs, nodes, and service groups – often focusing on what changes were needed in the headend or the node.
The sessions that stood out to me though discussed connecting the headend and node. This is what the industry refers to as the Converged Interconnect Network (CIN) and is the 'glue' connecting DAA changes in the headend and a digital fiber node.



Don't forget about the CIN
In this modernization process, the CIN also needs to change significantly as cable MSOs extend fiber deeper and move to next-generation access networks. Today, hubs are connected to analog nodes using an analog fiber connection. With DAA, hubs will connect with digital fiber nodes using 10 Gigabit Ethernet (GbE) – a digital fiber connection.
Hubs will need to aggregate a lot more traffic due to much higher node densification, GbE services from end users, 10 GbE connections from the digital nodes, and 10/100GbE connections from existing CCAP equipment. For this modernization effort to be successful, very high-capacity transport between the hub and the headend is required given the increase in traffic.
How can this be achieved?
The use of coherent optics is rewriting the rules for fiber capacity in the cable access network. Ciena is an active contributor to the CableLabs Coherent Optics Working group, which released specifications earlier this year for coherent optics technology for the cable access network. The initial coherent specification interoperates with the existing optical fiber channel plan and increases each optical channel to 100Gb/s, enabling MSO's to scale the existing optical infrastructure 10x. Coherent optical transmission will scale to even higher capacities in the future.
There is also a need for high performance and low latency between the hub and headend given the distribution of functions (e.g. vCCAP/vCMTS) and in some cases the centralization of functions (e.g. centralizing CCAP in fewer hubs resulting in greater distances). The speakers at the SCTE event that discussed the CIN acknowledged how critical this is as part of a DAA – for example, a presentation that reviewed Stofa's (Denmark) R-PHY deployment – the first in Europe – called out that the CIN was a 'big decision' in this program.
Award winning solutions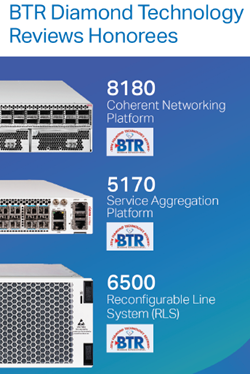 Ciena is proud to have been recognized as a Broadband Technology Report (BTR) Diamond Technology Review honoree at the SCTE event for the three key components in our Fiber Deep solution for the CIN.
5170 Service Aggregation Switch – an energy efficient one rack unit (RU) that can connect and aggregate up to forty 10GbE R-PHY or R-MAC/PHY devices to any 100GbE interfaces.
8180 Coherent Networking Platform – a high capacity 6.4Tb packet aggregation platform with programmable coherent optics in a compact 2RU footprint. The 8180 accepts the underfilled 100GbE connections, performs grooming and aggregates traffic to a coherent 100-400G line port.
6500 Reconfigurable Line System (RLS) – has a dense configuration that reduces footprint, expands fiber capacity, and is designed for ease of deployment – stacked shelves are managed as a single node with auto-discovery and zero touch provisioning. The 6500 RLS efficiently connects the hub to the headend carrying high capacity wavelengths.
What's next?
Another aspect of DAA raised in numerous sessions was the move to Proactive Network Management (PNM) – the need for cable MSOs to better understand what is happening in their network and to become more proactive with predictive analytics to prevent service impacting incidents and realize operationally efficiencies. Ciena recently announced the Ciena Insights Service to enable PNM for cable MSOs. Catch-up with Eli Cagiannos, Ciena's MSO Practice Leader who spoke with CED at the SCTE event on the opportunity for cable MSOs to embrace a more adaptive approach to managing their networks.
2018 is seen as the year of testing and interoperability for DAA – 2019 will be the year of deployments. I am looking forward to the 50-year anniversary of the SCTE Cable Tec EXPO (Sept 30-Oct 3, 2019) to hear the results of DAA deployments – hope to see you at EXPO 2019 in New Orleans!