Ciena's Ultimate eBook Holiday Bundle is Back: 2017 Edition
Looking for some casual light reading this holiday season as you kick back in your favorite chair drinking eggnog? Well, look somewhere else…Ciena's ultimate eBook holiday bundle is back and it's not for the faint of heart.
OOPS! This offer has expired, but that doesn't mean you can't get some of these great resources. Just visit our eBook Resources page to find what you need.
Ciena's power-packed, insight-rich holiday eBook bundle is back for 2017, serving up over 200 pages of expert knowledge on NFV/SDN, optical, and networking trends. After the runaway success of last year's holiday eBook bundle, Ciena's holiday elves have been hard at work coming up with this year's incredible giveaway. We've assembled our top eBooks of the year along with an OTN poster teeming with enough content to fill up most of your vacation time until the new year. Check out the list below to see what's in this year's bundle.
But first, here's something else to sweeten the deal. If you grab this year's limited time holiday bundle we're going to throw in last year's bundle as well. That's seven expert-grade resources bundled together and available to you in a single download. Keep reading for the full list but remember, it's only for a limited time so get it now. Here's what you'll get: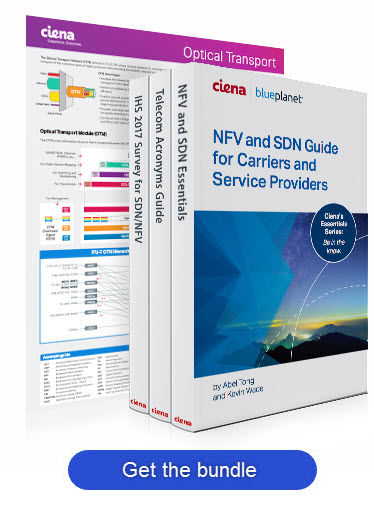 NFV and SDN Guide for Carriers and Service Providers eBook
Penned by the experts you've come to look to trust when it comes to NFV/SDN, Abel Tong and Kevin Wade of Ciena's Blue Planet team share 36 pages of insights covering why NFV/SDN is needed, the building blocks of a virtualized network, and what's ahead for NFV and SDN in the future. It's the perfect resources for anyone seeking a better understanding of these innovative and evolving networking technologies.
Telecom Acronyms Guide – Third Edition
Stop confusing your LOL's and LAN's and get right down to your FOADM's in this expansive-yet-concise Telecom Acronyms Guide. Painstakingly curated to give you the fastest and most salient explanations of 2000+ industry terms, the guide is easy to search, printable and makes a great desk reference…and a great stocking stuffer.
2017 IHS Technology SDN & NFV Vendor Leadership Global Service Provider Survey
From our incredible partners at IHS, this year's SDN/NFV survey is full of power-packed data, deployment plans, and learnings sourced from interviews with almost three dozen service providers around the world. You can count on the experts at IHS to provide insights like no other, and this report delivers the goods.
Optical Transport Network (OTN) Poster
Don't let the single page fool you. This high impact poster provides a crash course in OTN, combining charts, illustrations, terms, and tables for one of the most useful visuals on OTN ever created. Geek out on everything from OTN layers to bit rates to overhead bytes, all polished in a crisp and beautiful poster that you'll love. Get it. Print it. Frame it.
3 Bonus eBooks
As if that's not enough, we're also adding in our three killer eBooks from last year's bundle:
Carrier Ethernet Essentials eBook
Mobile Backhaul Essentials eBook
Experts Guide to Optical Transport Networking eBook
Grab this year's holiday bundle and we're going to throw in last year's bundle as well. That's seven resources with 200+ pages of expert knowledge available to you in a single download.
So make some time to get smart on the latest telecom tech. Ciena's holiday eBook bundle is back. But only for a limited time. From all of us at Ciena, we wish you the happiest of holidays.
PS - give a gift too, share this great offer with your friends and colleagues this holiday season.