Ciena's Optical Encryption technology goes global
Ciena's latest optical encryption capabilities were on display this week at the GLIF 2014 Conference in New Zealand, where an encrypted 4K video stream was transported 30,000km to the U.S. and back. The demo is a coming out party of sorts for the new encryption capabilities available on Ciena's
6500 Packet-Optical Platform family
– from the smallest 6500-2 all the way up to our 6500-32 platform.
Queenstown, New Zealand has been the site of an impressive feat of long distance technology this week. That's the location of the GLIF 2014 Conference hosted by REANNZ, where about 90 of the world's top national research and education network (NREN) operators have gathered to talk about topics ranging from Arctic fiber to network virtualization to SDN (who isn't talking about SDN these days).
A highlight of the event has been a 4K video encryption demo – in collaboration between Ciena, Southern Cross and Vodafone New Zealand – spanning from New Zealand to the U.S. West Coast and back. In the picture above, Ciena's Patrick Scully details the demo to the attending audience (thanks to Rod Wilson for the great pic).
In the demo, a 4K video camera sends an uncompressed and encrypted 4k video signal from Queenstown, New Zealand to a Southern Cross cable landing site near Los Angeles, through a trans-Pacific 12Tbps capable submarine system. The signal is then returned to New Zealand, where it is decrypted and displayed on high-resolution 4K televisions at the conference.
The Encryption Wow Factor
Transporting a live, unencrypted 4K video stream across a 30,000km span is cool in itself, but what gives the demo a real "wow factor" is the addition of real-time encryption.
Using a brand new 4x10G Optical Transponder (OTR) with encryption capabilities available for Ciena's 6500 Packet-Optical Platform, the 4K video stream is encrypted at line speeds using an industry-recognized FIPS 140-2 Level 3-compliant Advanced Encryption Standards (AES256) design, which includes physical tamper detection with zeroisation, among other advanced security features. With zeroisation, all critical security information (including encryption keys) is erased upon detection of anyone trying to physically open the cryptographic module by setting all data to zero, even when the card is not plugged into the shelf (kind of like the "this message will self-destruct in five seconds" concept from Mission Impossible). For more on the zeroisation feature, watch the video with Patrick Scully at the end of this post.
And now the real "wow" part: this 4K demo that spans a round-trip of approximately 30,000 kilometers has a total latency of less than one-quarter of a second, all with the encryption process occurring at line speeds without adding any noticeable delay.
Not-your-run-of-the-mill Encryption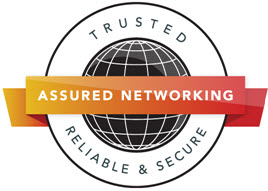 The demo is a coming out party of sorts for the new encryption capabilities available on Ciena's 6500 Packet-Optical Platform family – from the smallest 6500-2 all the way up to our 6500-32 platform. As part of Ciena's Assured Networking solutions, a dedicated and secure end-user encryption management application is provided, enabling administration of security parameters and alarms of carrier-managed or enterprise-managed networks.
You can read all the details aboutthe new OTR with Encryption in this datasheet, as well as obtain an overview of Ciena's wire-speed encryption solutions in this application note. Also below is a video where Ciena's Patrick Scully goes through the details of what makes this card remarkable.