Ciena unveils WaveLogic 3 with 400G: What you need to know
This morning Ciena has
unveiled
WaveLogic 3, the latest generation of coherent optical processors that form the foundation of our next-gen optical transport solutions. The piece of today's announcement that is likely to get the most headlines is that WaveLogic 3 can scale to 400G, but there is much more to the news than just 400G.
To get you quickly up-to-speed, here's a run-down on what you need to know along with links to additional resources related to the news.
What's the headline?
Ciena introduces WaveLogic 3, Ciena's new generation coherent optical chipset which will be embedded within several Ciena optical products.
WaveLogic 3 is not just about more bandwidth, it's also about smarter bandwidth.

WaveLogic 3 is the industry's first to scale to 400G optical transport.
WaveLogic 3 is the industry's first fully software-programmable coherent technology.

WaveLogic 3 enables wider, economically viable 100G adoption across the network, from metro, to long haul, to submarine applications.
What new technologies are part of WaveLogic 3?
There are three key technology improvements in WaveLogic 3:
Industry-first Transmit DSP

– Ciena has integrated digital signal processing in the transmitter (Tx DSP). The use of Tx DSP allows sophisticated software-programmable modulation (more on that in the next section).

Soft FEC

– A new soft-decision forward error correction (soft FEC) algorithm in WaveLogic 3 significantly extends maximum reach. The Soft FEC in WaveLogic 3 is software-programmable, allowing operators to adjust for latency and reach, depending on application needs.

Next-gen DSP receiver

– WaveLogic 3 also includes an upgraded DSP receiver (Rx DSP) with 6X the processing power of the Rx DSP in WaveLogic 2. It consumes far less power and significantly improves the ability to adjust for fiber PMD.
What coherent modulation formats are used?
WaveLogic 3 supports multiple coherent modulation formats.
Dual-channel DP BPSK for 100G at trans-Pacific distances
DP QPSK for 100G Ultra Long Haul (single channel 100G)
16QAM for 200G at metro and regional distances
Dual-channel 16QAM for 400G at metro and regional distances
Enabled by our Tx DSP technology, moving from one modulation format to another is completely software-programmable.
What's "smarter" about WaveLogic 3?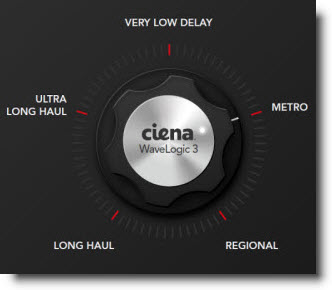 Industry-first Tx DSP enables software-programmable coherent modulation
Software-programmable soft-FEC can adjust for low latency demands vs capacity/performance demands
Constantly monitors optical transmission performance, like "deep photonic inspection" and rapidly responds to network demands.
Operators can order one WaveLogic 3 transponder which can be remotely reconfigured to provide optimized performance for specific reach, capacity, and latency requirements. This capability greatly simplifies forecasting and enables faster turn-up of services.
Combined, these features make WaveLogic 3 able to "tune" bandwidth as needed for service provider needs.
What about customers?
Verizon, BT, and Southern Cross are all quoted in the press release.
Ciena has previously issued 100G announcements with BT, PCCW Global and Southern Cross that are directly related to the deployment of WaveLogic 3 even though WL3 wasn't specifically called out.
Will Ciena be demonstrating WaveLogic 3 next week at OFC/NFOEC?
Yes, WaveLogic 3 will be part of the demos inside Ciena's Innovation Lab truck on the OFC/NFOEC show floor.
Ciena will also be hosting a live WaveLogic 3 event from the show floor next Tuesday at 11:00am PT. A live streaming webcast of the event is also available, register here.
What are the media and analysts saying? This section will be continuously updated with new analyst notes and media coverage.
What other reference materials do you have on WaveLogic 3? We'll be adding to this section as we post more supporting information on ciena.com