When it comes to 5G, the only path that matters is yours
The closed and proprietary mobile networks of the past aren't welcome any longer. Find out how Ciena is helping customers benefit from a more open, automated, and adaptable 5G wireline network.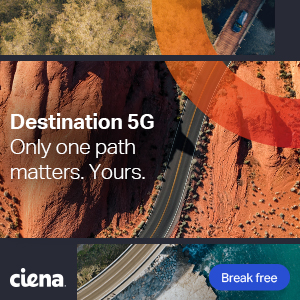 After years of hype, I think it's fair to say that 5G is here. Initial deployments are underway around the world. There's genuine excitement for a new generation of applications that exploit the massive end-to-end performance gains that 5G will provide across the mobile network. From AR/VR to IoT to gaming to streaming, our industry will push 5G technology to its limits to give consumers and businesses rich and rewarding digital experiences.
But here's the problem. I've travelled the world and spoken to network operators of every size, mobile and wholesale operators alike. They all say the same thing. If the full promise of 5G is to be commercially realized, this time it must be different. We'll need to challenge the traditional, closed way of building end-to-end mobile networks. (Short on time and want to get right to our product news? Click here.)
If the full promise of 5G is to be commercially realized, this time it must be different.
The time for change is upon us
The world is changing. Digital disruption, virtualization, and openness are all driving a change in how networks are built. Look, we don't shop the way we used to 30 years ago. We order transportation services with the push of a button, and many kids don't know what it feels like to wait until 8:00 pm for their favorite show to be on (or even worse, wait through commercials!) – because of digital disruption.
It's time for that change to come to wireless networks. For the past 30 years, successive generations of wireless networks were built a certain way: closed. Mobile Network Operators (MNOs) and wholesale operators alike had to rely on very few vendors and their proprietary architectures, interfaces, and protocols. What if your locked-in vendor wasn't innovating at the pace you needed to successfully compete? Well – you were stuck until the next generation network was upon us and hoped this time for open, standards-based solutions.
It's time the vendor ecosystem delivered the innovations that match the aspirations of the network operators' end-users, both humans and machines.
It is clear this old way isn't working anymore. Why? Simply put, mobile operators need to realize and monetize the benefits of 5G faster than previous generations AND support existing mobile services on their network. This requires reimagined levels of openness and adaptability; it requires a change in thinking. At Ciena, we have listened, and we're doing something about it.
Ciena is leading a fundamental change towards open, standards-based networks that allows network operators to leverage a broad ecosystem of vendors, technologies, and movements like O-RAN, intelligent closed-loop automation, analytics, virtualization, disaggregation, and Multi-access Edge Compute (MEC). It's time the vendor ecosystem delivered the innovations that match the aspirations of the network operators' end-users, both humans and machines.
So, we've announced several new products and capabilities to our 5G Network Solutions that are designed to accelerate and de-risk your journey by eliminating vendor lock-in with an open and automated future. We are bringing to the market:
Unified xHaul Transport to maximize investment returns by converging 4G and 5G fronthaul, midhaul, and backhaul traffic onto an open, simpler, and common transport network.
Blue Planet 5G Automation enhancements comprised of Dynamic Planning capabilities and truly end-to-end network slicing that enable critical new categories of 5G applications, enhanced Mobile Broadband (eMBB), massive Machine-Type Communications (mMTC), and ultra-reliable Low-Latency Communications (urLLC).
Professional Services ranging from consulting to implementation, designed to guide network operators throughout their unique 4G to 5G network evolution, regardless of their starting point.
Why Ciena?
Being an industry disruptor is not new for us. In fact, it's what we do – what we've always done – from pioneering DWDM to trailblazing coherent optics to being first with a software portfolio focused on intelligent, closed-loop automation. We thrive on doing things differently – it's in our DNA. The status quo simply is never sufficient for us.
When it comes to 5G, we're already engaged with several customers around the world and finding new ways to help them migrate their 4G networks to 5G or, in some cases, build new 5G networks altogether, all the while de-risking their unique journeys by eliminating vendor lock-in. In fact, some of the world's first 5G traffic is already being carried on Ciena wireline gear on multiple continents.
What exactly are we bringing to market?
Once an end-user's signal reaches a cell site radio, which is often the only wireless part of content's end-to-end journey, a simpler, converged wireline network is needed that embraces openness, intelligent automation, and leaner IP connectivity.
This is why we've created three new routing platforms as part of our unique Adaptive IPTM approach, which delivers open, standards-based IP, albeit differently, by leveraging our Blue Planet automation software. These new platforms simplify migrating from 4G to 5G by supporting both on the same infrastructure by converging fronthaul, midhaul, and backhaul traffic.
To ensure the utmost in reliability and availability, these new routers leverage our extensive field-proven backhaul network experience. They offer soft and hard network slicing capabilities via Segment Routing and FlexEthernet (FlexE) / G.mtn (Metro Transport Networking) switching designed specifically for 5G network slicing to deliver the three categories of 5G user cases at the infrastructure layer.
5168 Router: a fully programmable xHaul router will enable Centralized/Cloud RAN (C-RAN) architectures with support for CPRI/eCPRI/RoE/ORAN, Adaptive IP, and
high-density 10/25GbE to 100/200GbE aggregation
5166 Router: cost-effective router that will implement Adaptive IP and is optimized for 10/25GbE to 100/200/400GbE aggregation
5164 Router: cost-effective router that will implement Adaptive IP and is optimized for 10/25GbE to 100/200GbE aggregation
But it's not just hardware. Our Blue Planet Intelligent Automation software portfolio has been enhanced to offer open, standards-based 5G network slicing capabilities, including:
Vendor-agnostic, zero-touch network slicing, which allows network operators to automate the end-to-end design, creation, modification, and monitoring of dynamic, SLA-based virtual networks that are optimized to meet the specific needs of users to derive new revenue from 5G networks
Dynamic Planning capabilities, powered by federation and advanced software automation, that give operators an accurate, real-time view of their existing network and service resources to help simplify and optimize network buildouts that support small cell deployments, speeding the delivery of 5G services
And, since 4G isn't going away anytime soon, and knowing that every network operator has a unique path and migration starting point, we're investing in our Professional Services, applying proven best practices and processes – from initial strategy consultation, throughout implementation, as well as ongoing maintenance – to ensure success along all stages of the 4G to 5G journey.
As you can tell, we're pretty psyched. And there's so much more to tell, so I hope you'll check out a few other pieces of content to learn more.
We know that when it comes to building 5G networks that are open, automated, and adaptable, only one path matters – yours. Let Ciena help you break free from 30 years of vendor lock-in to build the open 5G networks of the future.
Learn more: