5G on stage in Barcelona
The dynamic mobile networking industry will converge in Barcelona at
Mobile World Congress
(MWC) from February 25-28 to showcase the latest in technologies aimed at improving our preferred Internet access vehicle of choice – our increasingly powerful smartphones – and the mobile networks connecting us to content.
The theme of this year's event is "Intelligent Connectivity" – the term we use to describe the powerful combination of flexible, high-speed 5G networks, the Internet of Things (IoT), artificial intelligence (AI) and big data". This clearly highlights that important fact that 5G is more than just a wireless upgrade. It's also about updating the entire wireline network from radios to data centers, where accessed content is hosted, and everything in between. This means the move to broad 5G-based mobile services and associated capabilities will be a multi-year journey requiring many strategic partnerships.
The multi-year journey towards ubiquitous 5G services will understandably be the star at MWC, and rightfully so.
Early 5G Deployments
There remains uncertainty about what technologies and architecture should be used for specific parts of the end-to-end 5G mobile network, such as the often discussed (and often hotly debated) fronthaul space. Early 5G mobile services are already being turned up in many regions in the form of early deployments, field trials, and proofs of concept. These services are delivered in 5G Non-Standalone (NSA) configuration, which essentially hangs 5G New Radios (NRs) off existing 4G Evolved Packet Core (EPC) networks. This allows for testing new 5G wireless technologies and jumpstarts critical Radio Frequency planning and testing. It also means that most new wireline upgrades that are taking place now for 4G expansion and growth will also carry 5G wireless traffic to and from data centers.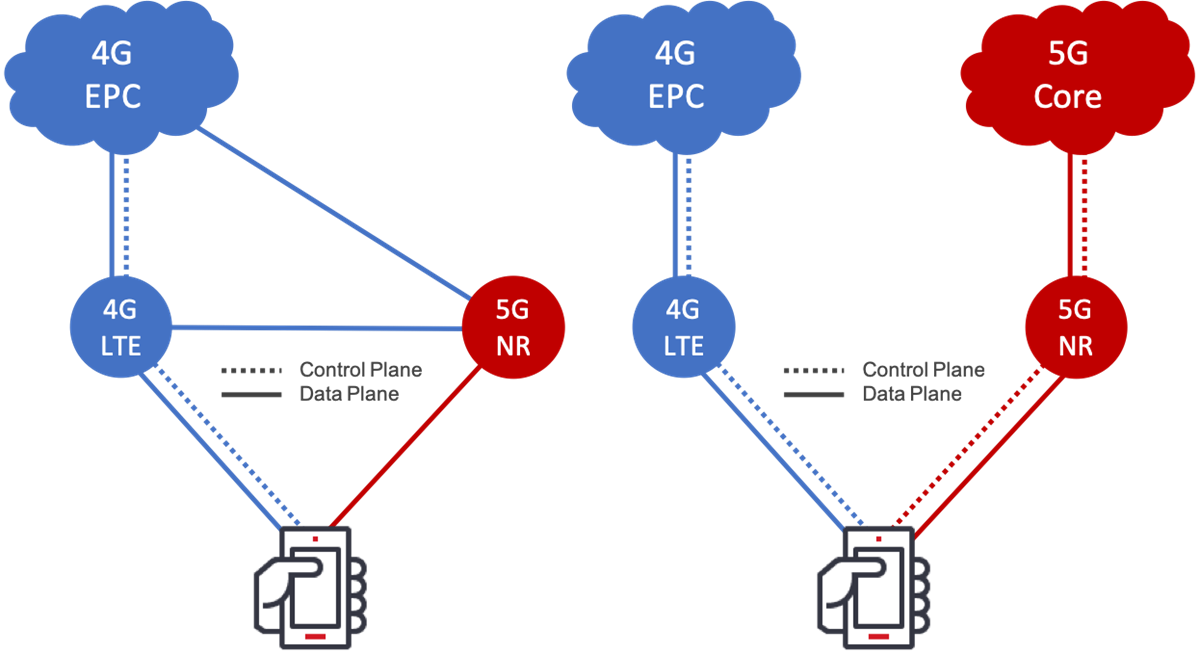 Figure 1: 5G Non-Standalone (Left) vs. 5G Standalone (Right) configurations
As 5G standards and associated products are introduced in the coming year(s), the 5G Core network will be rolled out to enable a wealth of new performance capabilities and associated use cases, many of which are still a twinkle in the eye of developers. Many of these wireless and wireline technologies, products, and use-cases will be discussed, debated, and showcased at MWC. 5G will eventually become a new innovation platform with endless possibilities.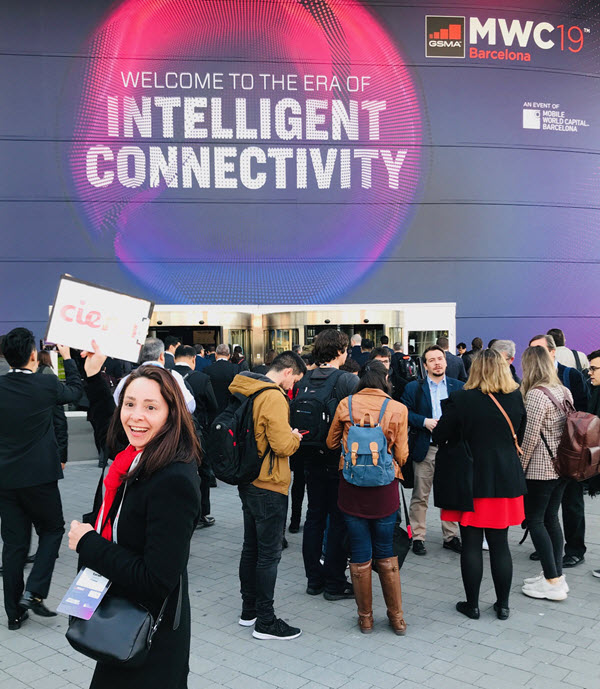 ENCQOR! ENCQOR!
Ongoing strategic partnerships and collaboration between vendors and MNOs are key to successfully rolling out 5G mobile network services as an industry, which is why initiatives such as the "Evolution of Networked Services through a Corridor in Québec and Ontario for Research and Innovation", or ENCQOR for short, is so important. ENCQOR is a $400M public-private partnership led by Ciena, Ericsson, CGI, IBM, Thales, and provincial coordinators Prompt, CEFRIO, and Ontario Centers of Excellence with co-investments from the Canadian government and the provincial governments of Ontario and Québec. Its five-year strategy aims at establishing the first Canadian pre-commercial corridor of 5G network infrastructure focused on providing access to industry experts to unlock the highly touted performance promises of 5G. The ENCQOR project brings together industry, small and medium-sized enterprises, public sectors, centers for innovation, and universities. More of these types of initiatives are required, eh?
5G Technology Ecosystems Are Mandatory
New 5G mobile technologies are paving the way to greater opportunities with a broader array of services, such as an advanced video-friendly network environment that capitalizes on edge compute/cloud. These opportunities come with the challenges of deploying a new and dynamic wireless architecture incorporating virtualization and edge compute supporting private, public, and hybrid cloud use cases. The network must be scalable to accommodate dynamically fluctuating demand with elastic workload placement for mobile video with a low total cost of ownership. Blue Planet, a division of Ciena, has assembled several market leaders – Affirmed Networks, Akamai Technologies, Equinix, Tiledmedia, Wind River – to showcase how to address these challenges and enable the new 5G network edge, as illustrated in Figure 2.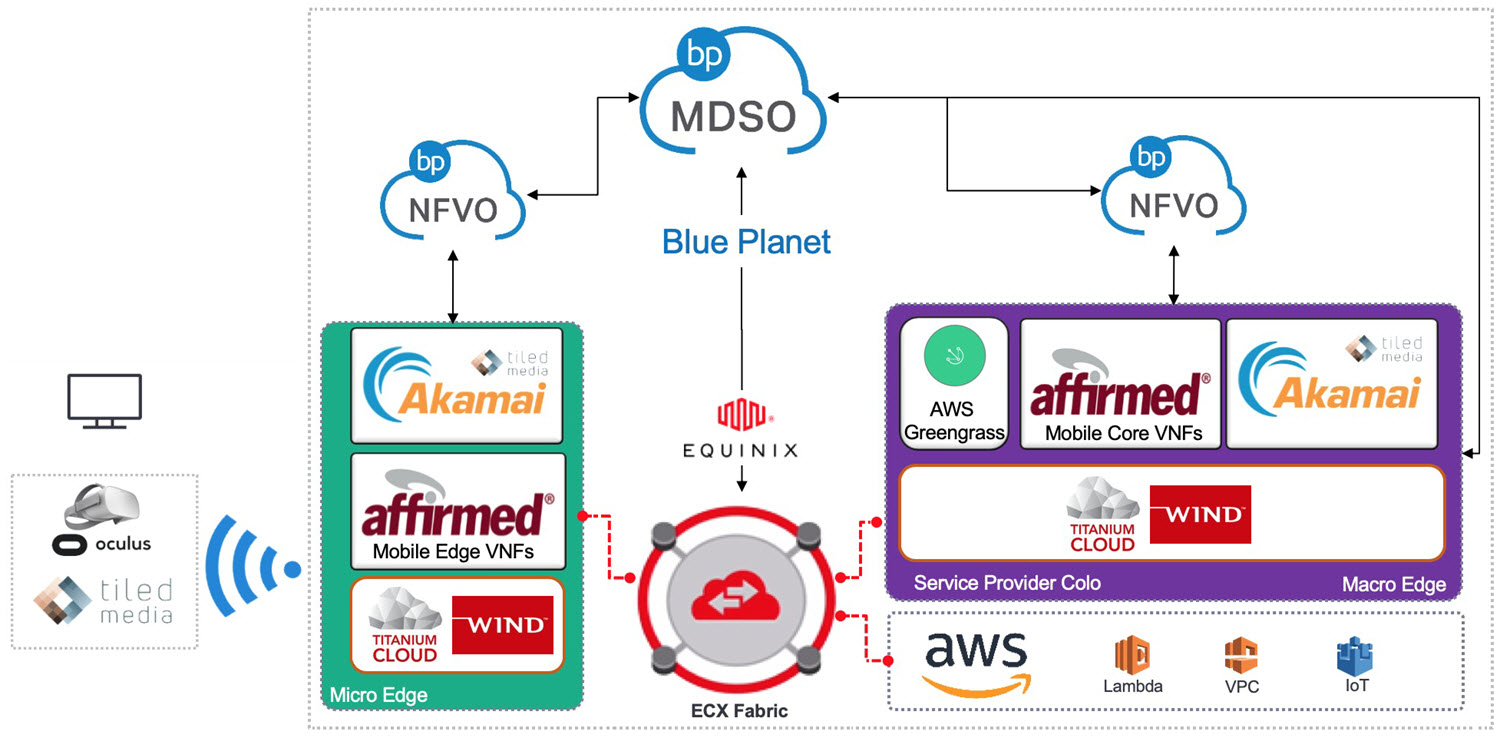 Figure 2: Proof of concept configuration demo setup
This new 5G network edge demo builds on the recent MEF18 award-winning edge compute demo demonstrating IoT, telematics, and enterprise use cases. It leverages Ciena's Blue Planet Intelligent Automation Platform to automate wireless infrastructure via a dynamic and virtualized Evolved Packet Core from Affirmed Networks and edge compute capabilities from Wind River's Titanium Cloud virtualization platform. Ciena automates video content delivery over a reliable, agile, and scalable virtual Content Delivery Network (vCDN) from Akamai, featuring 8K virtual reality video powered by Tiledmedia's ClearVR. Ciena also automates sensor telemetry processing via AWS Greengrass through the Equinix Cloud Exchange Fabric to AWS. The demo is enabled via Equinix's network and leverages their Macro Edge, Cloud Exchange Fabric, NFVI, and future Micro Edge capabilities to incorporate 5G into private, public, and hybrid cloud networks for an adaptive, reliable, scalable, and efficient service delivery via a new mobile infrastructure with an associated low total cost of network ownership.
Looking into the Future of 5G Networks and Use Cases
The IEEE will be hosting the Future Technology Workshop focused on technologies associated with the 5G era, and beyond, at the University of Politecnica de Catalunya in Barcelona on February 28 in the backdrop of Mobile World Congress. This workshop aims to bring together researchers, scientists, technology experts, governments, academia, and other industry stakeholders to discuss future 5G network technologies and their impact on a broad spectrum of verticals, such as smart cities, first responder missions, eHealth, and connected cars, to name but a few.
This exciting workshop will offer expert talks and panel on topics related to Multiple-Input and Multiple-Output (MIMO), applications and verticals, edge automation, security, cognitive radio, fronthaul, future network testbeds, deployment considerations, and much more. Ciena will be participating in this workshop, as summarized below.
Thursday, February 28 @ 9:00AM to 9:30AM:
Introduction of IEEE Future Networks Initiative Presented by Dr. Ashutosh Dutta (JHU/APL) and Kaniz Mahdi (Ciena)
Thursday, February 28 @ 4:15PM to 4:45PM:
International Collaboration on 5G Real World Operational Testbed by Benoît Pelletier (ENCQOR/Ciena)
Meet Us in Barcelona!
Ciena will have a booth (Hall 2, 2J51) hosted by a variety of industry experts available to discuss such topics as Ciena 5G Network Solutions, The Adaptive Network, Ciena Blue Planet Intelligent Automation Platform, WaveLogic 5, and any industry topic on your mind. We'll also have demos showing the very latest in networking technologies.
We hope to see you in Barcelona!