5 factors data centers must contend with in the IoT era
The Internet of Things (IoT) is destined to generate huge amounts of data, but could the promise of IoT be hindered by data centers being unable to cope with the data demands? Ciena's Brian Lavallée gives five key factors data center providers must consider with IoT.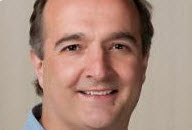 Brian Lavallée is Director of Technology & Solutions Marketing for Ciena's packet networking solutions. This article was originally posted in Data Center Knowledge.

Whether it's 25 billion or 75 billion "things" connected to the Internet by 2020, there's no question that the Internet of Things (IoT) will generate huge amounts of data, changing the way business is conducted and how we go about our day-to-day tasks. IoT promises to improve the way we live, work, and play, but could its progress be hindered by data centers being unable to cope with the data demands?
Below are five key factors data center providers must consider for the IoT era:
1.) Data Center Interconnect (DCI)
The impending terabits of data from IoT will only exacerbate data bandwidth challenges, requiring networks to support far more data traffic than ever before. For IoT to truly succeed, data must move across the network freely and securely.
Consequently, DCI becomes increasingly important. Sufficient levels of bandwidth must be made available to send data from the "thing" to the data center, as well as between data centers due to distributed computing and storage architectures, to accomplish meaningful analysis.
This is critically important for things like smart cars, in which data is constantly being received and analyzed by onboard systems that provide alerts for everything from faulty headlights to low tire pressure. Once driverless cars become practical, data will need to reach the data center in near real-time to prevent collisions. Advances in coherent optics have paved the way to successfully transmit data at rates of 100G and much higher, over almost any distance, dramatically improving DCI performance.
2.) Computation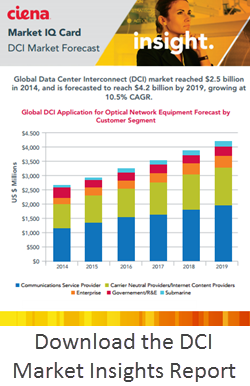 IoT will accelerate the adoption of big data analytics. An enormous amount of structured and unstructured data will be generated, and computational-intensive analytics are required to gain meaningful and actionable information.
IoT data is ordinarily crunched on entry to the data center to create a new, more valuable data streams. This, along with other streams, is sent to powerful analytics engines using big data techniques to generate meaningful results that can be acted upon. Robust DCI network connectivity that facilitates distributed compute and storage capabilities required of big data analytics is needed to process the enormous amounts of data collected from a variety of sensors.
3.) Storage
The impact of IoT on storage infrastructure will have to be addressed as this data becomes more prevalent. The focus today must be on centralized and distributed storage capacity for data center operators, as well as whether IT can harvest and use IoT data in a cost-effective manner.
Up until now, the comparatively more predictable nature of traffic made it simpler to store data, but with data coming from smartphones, watches, cars, and countless other devices, data is exploding.
Legacy storage systems are on the verge of becoming obsolete, leaving room for organizations to adopt cloud-based storage services that support both structured and unstructured data in a highly secure manner. As a result, storage isn't strictly local anymore. Instead, cloud-based storage provides flexibility, scalability, compliance, and a sophisticated architecture to support an essentially unlimited influx of data.
4.) Availability
If critical infrastructure systems like smart grids and emergency alert systems are going to be sending time-critical data over a network and acting upon it in a meaningful and timely manner, a high degree of network and service assurance is needed. A carrier-class network will help eliminate the network connectivity concerns of data center operators and ensure mission-critical traffic can be successfully transported over short to very long distances based on application requirements.
Network latency and jitter will impact performance of IoT applications. A patient whose vital signs are being constantly monitored by remote hospital staff could end up in a life-threatening situation if critical information cannot travel across the network in a reliable and timely manner. Situations like this show why highly reliable and low-latency networks optimized for IoT traffic will be necessary.
5.) Security
A recent FTC report warns that IoT can present a number of security risks that could be exploited to harm both businesses and consumers. Even though consumers produce sensor data, it doesn't always belong to them; instead, the data is often owned by the collecting entity, which will create apprehension for many users. This information includes financial transactions, personal records, and corporate data that is often business critical and confidential, creating a requirement to ensure data center network connections are trusted, reliable, and secure – often requiring network encryption.
While encryption and stringent rules for access to stored data are widely employed to protect against intrusions, advances in networking equipment can also deliver low latency, in-flight data encryption. This provides increased protection for data from the moment it leaves one data center to the moment it enters another data center. Encrypting at the transport layer of the network offers wire-speed performance to ensure the process does not reduce the traffic throughput, increase latency, or modify the content. Data center operators must be compliant. Different countries have varying codes and regulations regarding how data can be stored, accessed and analyzed.
Once simply imaginative, the business and life enhancements that IoT can bring to society are now almost infinite and right around the corner. However, without properly addressing the dynamics inside and outside the data center, the many benefits offered by IoT will be interrupted and wide-scale adoption will slow.