4 Reasons Enterprises Love SD-WAN
As enterprises look for new and better ways to connect branch offices and data centers, SD-WANs have emerged as a $6 billion market opportunity. Lee Doyle of Doyle Research explains why SD-WAN services are so attractive to enterprises, and what service providers can do to respond.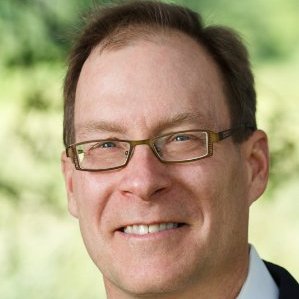 Lee Doyle is Principal Analyst at Doyle Research, providing client-focused targeted analysis on the Evolution of Intelligent Networks. He has over 25 years' experience analyzing the IT, network, and telecom markets. Lee has written extensively on such topics as SDN, NFV, enterprise adoption of networking technologies, and IT-Telecom convergence. Before founding Doyle Research, Lee was Group VP for Network, Telecom, and Security research at IDC. Lee contributes to such industry periodicals as Network World, Light Reading, and Tech Target.
You may work at home or from a remote location a day or so a week. Or maybe you're on the road a lot. You're not alone. Research shows that 50% of the US workforce can telework and 20-25% do so regularly.
With workers no longer tied down to a central office, cloud-based applications have risen meteorically in recent years. In fact, in early 2016, CIO reported that 93% of businesses are using cloud technology. Increased worker mobility and the development of cloud apps have relieved stress for workers, but they have pushed the branch networks of many enterprises that operate large private Wide Area Networks (WANs) to the breaking point.
That's because the old way of connecting branches and central data centers using MPLS alone is not enough. Enterprises looking to provide cheap, reliable, secure links to the cloud need a mix of broadband connections along with their trusty old WANs.
That's where a Software-Defined WAN (or SD-WAN) comes in. This approach is perfect for enterprises with branch operations that need to be agile (are there any around today that don't?), require better application performance, and need lower cost bandwidth.
There are four key capabilities that an SD-WAN provides for enterprises that make it such an attractive new service:
It creates and automates the setup of site-to-site VPNs that connect an enterprise's branch offices to the cloud (or to corporate data center), which can augment or replace the existing MPLS WAN.
It can use lower-priced broadband access links such as DSL, PON or LTE on a physical or virtual CPE appliance.
It provides centralized management and automated control of branch office WAN connectivity, which eliminates truck rolls to implement changes.
It dynamically scales bandwidth capacity to the cloud based on needs and conditions.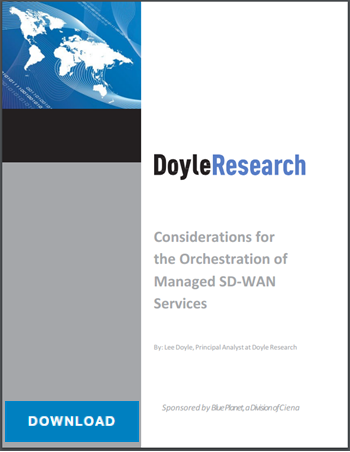 The $6 Billion SD-WAN Opportunity for CSPs
While enterprises want more bandwidth at lower costs, CSPs are trying to figure out how to build revenue and stay profitable. Business WAN services are a $40 billion annual business for CSPs, so they're looking to safeguard it.
But the SD-WAN news is not all bad for CSPs. IDC thinks that worldwide demand for SD-WAN products and services will exceed $6 billion by 2020. That is a tremendous opportunity for CSPs that deliver exceptional managed SD-WAN services (and the corresponding threat to current WAN services revenues for those that do not).
SD-WAN Service Orchestration with Ciena Blue Planet
To take advantage of this new service opportunity, CSPs need a vendor-agnostic abstraction layer to prevent vendor lock-in, and seamlessly tie SD-WAN solutions to their existing OSS/BSS platforms and emerging SDN and NFV initiatives. Ciena's Blue Planet software, which supports multi-vendor and multi-domain orchestration, provides an open and extensible software platform that reduces the complexity and cost associated with developing and deploying services across multiple vendor and technology domains.
This helps service providers overcome a number of key challenges related to operationalizing managed SD-WAN service deployments. By serving as a vendor-neutral abstraction layer, Blue Planet:
Hides the details and complexity of individual SD-WAN solutions
Prevents lock-in to any specific SD-WAN vendor/solution, which eliminates the need to create a service-specific operational silo
Supports service chaining of SD-WAN with NFV and physical network functions/resources to enable the creation of differentiated services.
Simplifies integration with back-office OSS/BSS for end-to-end fulfillment and assurance, and service lifecycle management
Blue Planet currently supports multiple SD-WAN solutions from within its Blue Orbit SDN and NFV Ecosystem to meet customer requirements, and facilitates rapid on-boarding of additional SD-WAN solutions via the Blue Planet DevOps Toolkit. Blue Planet is deployed in multiple production networks for a variety of use cases today, including SD-WAN service orchestration, NFV orchestration, and WAN automation.
For more on SD-WAN services and how Ciena's Blue Planet software platform can ensure a successful SD-WAN deployment, I invite you to read my latest research report: Considerations for the Orchestration of Managed SD-WAN Services.