3 Ways Blue Planet MCP Services is the Superhero Your Business Needs
There's a new superhero in town – Blue Planet MCP Services – helping you rapidly incorporate Ciena's Blue Planet MCP domain controller into your network operations. Here's how MCP Services can bring these superpowers to your team.
It's a bird! It's a plane! It's a service!
That's right. Services have super powers. Super powers to make a difference in your day-to-day personal and professional worlds.
Meet one of the newer additions to the Ciena Services superhero team: Blue Planet MCP Services. If your network is deploying the Blue Planet Manage, Control and Plan (MCP) domain controller to automate your Ciena network, MCP Services will help your business, your colleagues, and you in ways that are as impressive as leaping tall buildings in a single bound—without the risk.
Services. Your superhero—every day.
Today's caped crusader movies are full of fantasy figures, but not all superheroes require an iconic costume, a logo, or a bite by a radioactive spider.
And heroes come in many forms. At their best, they are defenders—who appear at the right time, in the right way to save the day.
It's this combination of perfect timing with just the right solution that makes Blue Planet MCP Services the superhero your network needs.
In an age where time is the most valuable commodity, MCP Services delivers a single point of service management that enables you to rapidly incorporate Blue Planet MCP, bridge gaps, and enjoy peace of mind—while maintaining focus on your core competencies.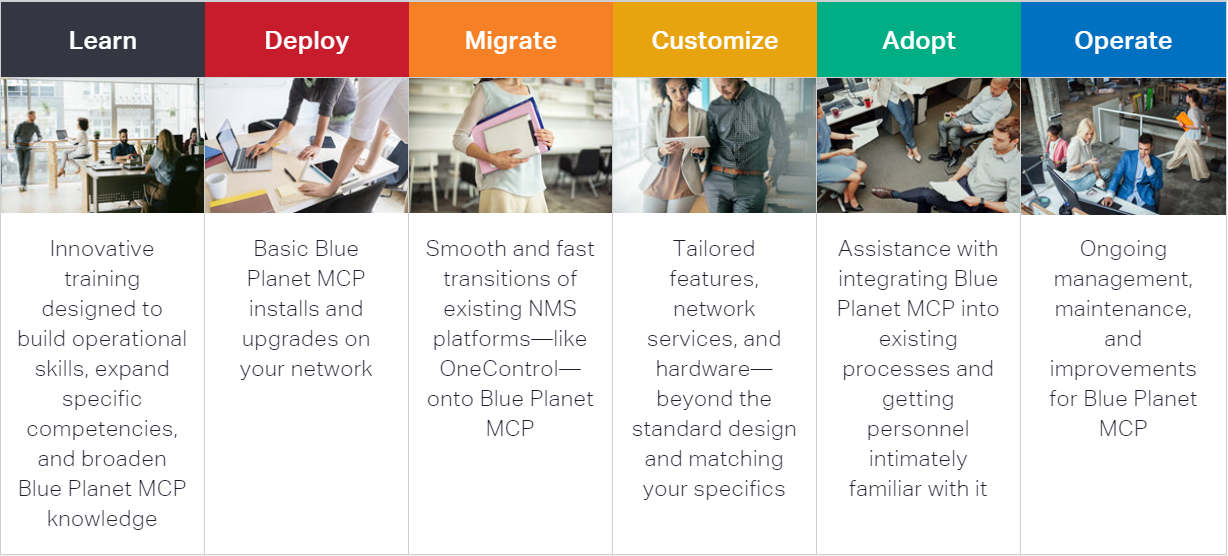 SHAZAM! Blue Planet MCP Services!
Let Ciena's Blue Planet MCP Services team swoop in with extensive expertise, tools and solutions―including Learning, Deployment, Migration, Customized, Adoption, and Operational offerings―that accelerate your path to success with Blue Planet Manage, Control and Plan. Our MCP Services experts can also extend in-house capabilities for skills and staff that are not in place and collaborate to help drive operational and business results.
Cue the rooftop spotlight on Blue Planet MCP Services and three of its many abilities that will help you prevail.
1. Elasticity: It can stretch, expand, or contract to suit any situation. The flexible ability of the Blue Planet MCP Services suite gives you choice. This means you can select the best combination of offerings—in full or in part—that you need to support your transformation, without adding the extra capital or operational expenses normally associated with managing this type of activity in-house.
2. Enhanced technological intelligence: Blue Planet MCP Services is comprised of industry-proven methodologies and unique Ciena expertise, processes, and best practices. Plus, our team of well-rounded engineers and technical and business professionals has an extensive mix of backgrounds and over 350 years of combined experience working on a variety of technologies—from TL1 to SNMP and APIs. All this combined offers a significantly complete and deeply knowledgeable network solution, making us the partner you can hold accountable.
3. Speed: You want and need to be effective with your network investments. Consider it done with Blue Planet MCP Services. Our highly-scalable resources combined with blend of people, processes, and tools augment the already-heroic efforts of Blue Planet MCP and help get the job done right the first time—as soon as possible, without sacrificing quality or going over budget. An accelerated and successful deployment (or migration) ensures a higher return on investment, a speedier path to achieving business objectives, and provides a competitive edge.
Put our super powers to work for you
Blue Planet MCP Services is the single point of accountability that can help augment and evolve your operations to software-based control with Blue Planet MCP—while allowing your business to focus on its business, you on your job, and both of you to thrive. The sooner you team them together, the faster you'll be able to modernize your network with laser-like focus, knock out inefficiencies, and soar to new heights–and do so without a mask.
Take a look at the MCP Services Web Page. Download the Data Sheet. Let us know if you need us send out the Blue Planet MCP Services signal, so you can begin to realize its potential today.
In the meantime, what super power do you wish you had? Let us know in the comments below!