Metro routing done differently: Unveiling Ciena's latest innovation, the WaveRouter
You asked for a different way to build a converged metro network, and we listened. Meet WaveRouter, a reimagined routing platform architected for the converged metro. Ciena's Scott McFeely details how this unique, purpose-built platform architecture will enable you to achieve greater simplicity, scale, and sustainability.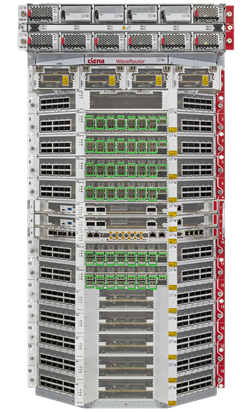 Last year we told you to "stay tuned" because when it comes to doing IP differently, we were just getting started. And we meant it. Today we are unveiling a reimagined routing platform architecture for the converged metro – a true breakthrough from legacy routing architectures.
Meet WaveRouterTM, a unique and purpose-built coherent metro router designed to converge IP and optical layers in the metro, but with never-before-seen flexibility, future-proof extensibility, and improved network sustainability. Part of Ciena's Coherent Routing and compatible with our existing Routing and Switching platforms, WaveRouter is the next step in bringing together the latest in IP and optical technology innovation with advanced multi-layer coordinated control to substantially drive down the cost of networking for you, our customer, while also helping you open up new business opportunities.
"As one of the largest communications services companies in the world, we continually strive to deliver more value for our customers with networks that are fast, reliable, secure and efficient. Advances in IP/optical convergence in the metro, as Ciena announced today, are critical to network evolution. As the telecom industry manages to move vast amounts of data over 5G, between machines and to the cloud while reducing our carbon footprint, continued innovation in this space is critical." - Glenn Wellbrock, Director of Network Planning, Verizon
Why a redesigned router?
Up until now, as operators look to competitively evolve their metro architecture to meet new demands, they have had a choice of three options: big chassis (ortho-direct chassis), leaf-spine, or distributed disaggregated chassis (DDC).
But when evaluating these choices, many network operators have come to the realization that each architecture has tradeoffs and can lead to mixed business results.
Big chassis provide the higher-densities operators are looking for, but are ultimately fixed, resulting in limitations in overall scalability and the inability to upgrade to new generations.
With leaf-spine, it is easier to upgrade each "spine" or router to get more density, but this is not a simple or cost-effective way to scale for various reasons, such as dealing with the management of multiple control planes.
DDC seems less expensive to scale and can be managed from a single source, but it suffers from serious sustainability and operational challenges, like individual cooling, power, and cable management needed for each white box. While it might provide cost savings compared to other options, DDC isn't simple and might not even be possible for some network operators to execute.
When I look at these options, I can't help but picture a leaking boat – as you try to solve one problem, another problem springs through. So, at Ciena we decided to take a step back, cleaned the slate, and pondered—could we rethink and redesign a new metro router to help network operators break free from current metro routing platform constraints? Could we deliver a lower first-in cost, simpler-to-deploy and manage solution that can flexibly scale up and out for the metro?
The answer - yes we can!
WaveRouter is a unique, purpose-built coherent router optimally designed for the converged metro. It packages the best of previous routing architectures with a new routing platform design, Ciena coherent optics, and multi-layer control to sustainably deliver the operational simplicity and network scalability you need. Let's look at how.
Reducing your operational complexity
As an industry, we are at an intersection point where optics and routing are starting to converge. But since current architectures were developed for one layer, operators are struggling with fragmented and time-consuming operational tools to deploy, manage and maintain a converged network.
WaveRouter, when deployed with Ciena's next-generation domain controller Manage, Control and Plan (MCP), gives you the ability to converge and streamline IP and optical network operations. MCP Applications provide multi-layer network visibility and software control from a single pane of glass, so you have the intelligence you need to better utilize your network resources and meet demand while lowering your operating costs.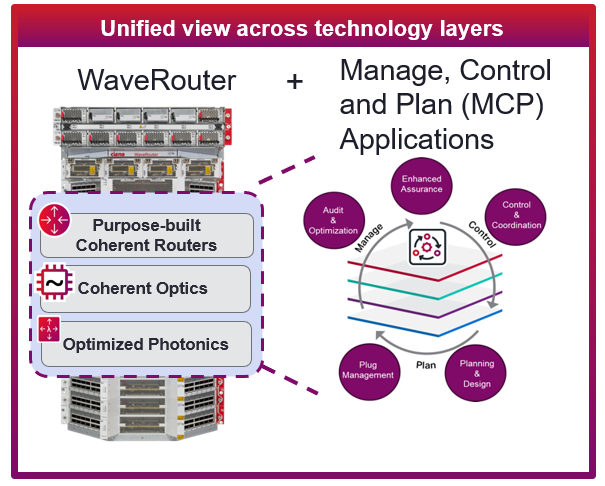 This means you get multi-layer awareness and coordination​, better path diversity for increased service availability​, holistic lifecycle management of IP/Optical network services,​ and simplified physical access with a single management IP address. The result is highly-efficient operations that allow you to dynamically adapt to changing market demands.
Flexibly scale your metro
Next, we looked at the need for flexible scale. This is a hot topic in metro network planning discussions, and centers around sizing unpredictable capacity demands and the need to flexibly respond to shifting multi-cloud traffic patterns. Why is making flexible metro capacity so important? Because without it you risk either over or under building your network and stranding network investment in locations where you don't need it.
But what if you could scale as you grow, so you didn't have to make those decisions up front?
With WaveRouter, we have redefined what it means to flexibly scale your metro network. Unlike other metro routing platforms, WaveRouter is optimally designed to scale and evolve via an extensible and flexible converged architecture, across multiple dimensions – routing, optical, and compute. Configurations range from 6Tb/s to 48Tb/s to 192Tb/s in incremental 6Tb/s steps of switching capacity.
If you are interested in not having a backplane, slot tradeoffs, or stranded capacity, WaveRouter features a unique, extensible router switch fabric for in-service hardware upgrades without performance degradation. This allows you to scale as you grow so you don't have to make capacity deployment decisions up front. It's a building block approach that allows you to evolve the number of ports, switching capacity, and the number of coherent optics used as your capacity needs demand.
In addition to our building block design that allows you to add capacity as needed, WaveRouter also lets you benefit from the industry's leading coherent optics. If you are looking for a half-rack sized (up to 21RU), full-fill capable platform with footprint-optimized coherent and performance optics supporting 800Gb/s per wavelength transmission and beyond, WaveRouter is your answer! With WaveRouter's optimized and integrated optics, you can integrate the latest in coherent advancements without needing to forklift upgrade your metro platform.
What does this mean? WaveRouter can support a wide range of plugs and submodules without stranding chipset or fabric capacity— including WaveLogicTM 5 Nano coherent pluggables, WaveLogic 5 Extreme performance-optimized coherent submodules, and the recently announced WaveLogic 6 family. With all of these capabilities, WaveRouter capitalizes on platform flexibility to deliver on flexible futureproof scale.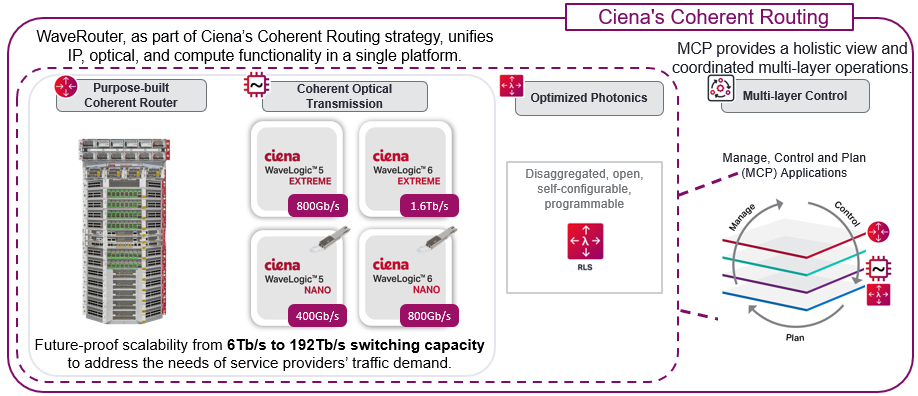 But that's not all. Flexible scale without elastic compute capabilities would be a mistake. Why? Elastic compute capabilities are important so you can independently scale up the router's compute function outside of the route processor – no need to sacrifice the performance of other route functions.
Ultimate sustainability, without sacrificing flexibility and performance
As demand in metro networks increases, you need a more scalable solution that allows your network to flex, but it also has to work within the controlled environmental constraints of your operating facilities. But current metro deployment options often lack the ability to adapt to legacy telco offices and these constraints.
WaveRouter's modern distributed housing and footprint-efficient design dramatically improves thermal flexibility to address space and power constraints. It offers the flexibility to deploy your metro router in non-adjacent racks and rows, and allows for front-to-back air-cooling efficiency, helping to overcome some of the most common and challenging office thermal limitations.
At Ciena, we factor in your sustainability goals and requirements into our design process. For instance, WaveRouter's unique angled faceplates, enable the use of low-cost passive DAC cables in place of more expensive optical fabric cables. The cables use zero power, are ultra-thin, non-restrictive, and a low-cost way to interconnect with the fabric.
Then there is WaveRouter's shared and expandable pay-as-you-grow power distribution, port utilization, and node expansion which were designed to not only help keep your TCO in check, but also to hit your sustainability targets by allowing you to deploy network resources as you need them, and not a minute sooner.
And don't forget, with Ciena's industry-leading WaveLogic performance-optimized coherent optics and footprint/power-optimized pluggables, you have the choice to satisfy all network requirements at the lowest cost with optimal space and power utilization. For the first time, you now have the ability, with a purpose-built router, to match optical performance to link requirements, without requiring regeneration. This is critical when striving to reach sustainability and cost targets.
When you add up all these capabilities, it's clear to see why we built WaveRouter the way we did. It affords our customers the ability to find the sweet spot between metro router density, power, space, and cooling. It's done differently to help you overcome your thermal challenges and reach your sustainability goals.
It looks different – because it is different
You asked for a different way to build a converged metro network. We heard you. With WaveRouter's unique, industry-first platform architecture, you will be able to break free from legacy constraints to converge your IP and Optical layers in the metro with ultimate operational simplicity, future-proof scale, and improved sustainability. We are excited about the possibilities WaveRouter will create for metro architectures.
Welcome to the future of metro routing. Welcome to WaveRouter!