Interoperability and innovation go hand-in-hand: Ciena's MCP achieves TIP's Optical SDN Controller NBI Compliance
Openness has always been a guiding principle for Ciena's solution offerings, to support our customers' need for vendor choice. When it comes to SDN control, we are continuing on that same path. We're pleased to announce that Ciena's Manage, Control and Plan (MCP) domain controller has been awarded TIP's Bronze Badge for compliance to MUST Optical SDN Controller NBI requirements. Ciena's Marie Fiala explains why this is important to our customers.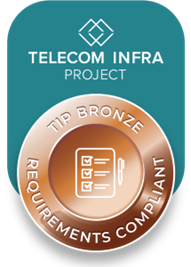 In the telecoms industry, standards are necessary so that multi-vendor equipment can interoperate, and service providers can choose best-of-breed elements from different vendors, and more easily piece them together, to meet their holistic business objectives. Such objectives often include innovative network architectures, streamlined operational models, reduced operational expenses, lower capital expenditures, and greater adaptability to dynamic connectivity demands.
The Telecom Infra Project (TIP) has taken interoperability to heart with its goal of accelerating the adoption of standards-based networking solutions to deliver high-quality connectivity. The TIP global community is comprised of hundreds of companies, including service providers, systems integrators, and vendors such as Ciena.
Over the past months we've been working diligently with TIP's Open Optical & Packet Transport group (OOPT) in proving our software controller's open SDN interfaces against the Mandatory Use Case Requirements for SDN for Transport (MUST), defined by the OOPT sub-group led by Vodafone, Orange, Telefonica, Telia, MTN, Deutsche Telekom. We're now pleased to announce that Ciena's Manage, Control and Plan (MCP) domain controller is the 1st product to be awarded TIP's Bronze Badge for compliance to MUST Optical SDN Controller NBI requirements and is listed on the TIP Exchange. The TIP Exchange provides service providers an easy way to search for products that comply to standardized requirements.
"Achieving this TIP interoperability compliance milestone is a very important step for MCP", said Nigel Davis, Systems Design Architect, Ciena. "We are working towards further compliance milestones for MCP's capabilities as a multi-layer, multi-vendor controller for open southbound interfaces, for northbound interfaces covering IP, and by extending our TAPI northbound capability."
"The adoption of TIP's MUST SDN Controller open API requirements by companies such as Ciena is a big step towards TIP's goal of enabling open, disaggregated and standards-based solutions. The TIP MUST program brings a really interesting opportunity for vendors to engage directly with the most active consortia of operators in the industry, driving SDN productization to real networks", said Arturo Mayoral López de Lerma, Technical Program Manager at TIP.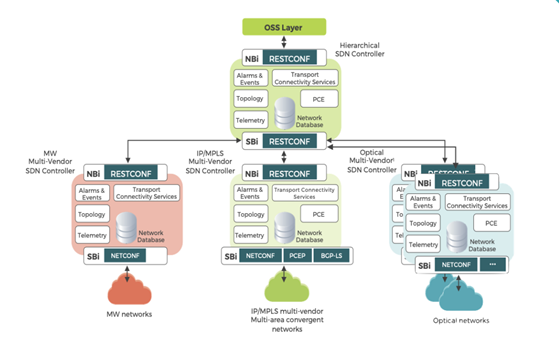 Figure 1: Open Transport SDN Target Architecture (reference: MUST Optical SDN Controller NBI Technical Requirements Document, TIP OOPT PG - Version: 1.1)
Why is this relevant to our customers? In a nutshell, it makes their life easier. Time and time again, in discussions and in RFPs, service providers are looking for products that comply with standardized interfaces, so they can more easily integrate domain controllers (like MCP) northbound into their Hierarchical SDN Controller or Operational Support Systems (OSS), in order to streamline and automate end-to-end operational workflows across multiple IP and optical domains. Also, since various operators are involved in the shaping of the TIP standard requirements, this consistency is also reflected in RFP questionnaires, which greatly assists in formulating the requests as well as assessing the responses.
While interface specifications provide standardization by definition, they also give enough latitude to allow for vendor innovation through vendor-specific customizations. Over time, through the standardization process, there is opportunity for such vendor-specific enhancements to become harmonized and standardized. Practically speaking, this means that service providers still need to invest time, money, and effort in order to piece together the disaggregated multi-vendor components of their choice, test the integrated end-to-end combination, and iron out interoperability issues prior to taking the solution live. This systems integration cost , certainly needs to be accounted for when assessing cost against end-benefit.
The good news is that MCP's compliance to the MUST Optical SDN Controller NBI requirements smooths the path for service providers to integrate MCP within their overall multi-vendor, multi-layer network operations environment, leveraging the use of the RESTCONF protocol and ONF Transport API (TAPI) data model to for a variety of use cases: discovery, provisioning, inventory, resiliency, service maintenance, alarms, and notifications. Service providers can also choose to leverage MCP's additional multi-layer capabilities for planning, visualization, troubleshooting, and service assurance to gain even more operational efficiencies across IP as well as optical domains.
That's the linchpin – with open SDN interoperability service providers can take advantage of the most innovative and cost-efficient technologies. That's a level of openness that makes business sense.