5 tips to a successful virtualized enterprise edge deployment
Are you looking to replace physical network devices in branch locations with software-based virtual network functions (VNFs)? Ciena's Daniele Loffreda gives you five tips to follow to ensure a timely and smooth transition to a virtualized enterprise edge.
Enterprise customers across multiple industries are exploring how and whether to replace numerous physical network devices in each remote branch with software-based virtual network functions (VNFs). While virtualizing the enterprise edge can generate significant cost savings and operational agility benefits, many enterprises encounter substantial obstacles along the way.
Virtualizing the enterprise edge within a multi-cloud environment, was a key topic of discussion during last week's Open Network User's Group (ONUG) Spring '22 Conference and Expo. Attendees from across the enterprise cloud community discussed solutions and technologies required to build cost-effective, networked, secure and observable multi-cloud architectures.
During Ciena's panel discussion "Cracking the Code to Enterprise Edge Virtualization," audience members from the banking, retail, pharmaceutical and healthcare industries shared their experiences, concerns, and challenges. Key audience questions included the following:
Where do I begin, and what do I prioritize?
What are the most common mistakes enterprises make along the virtualization journey?
How do I ensure proper service chaining between VNFs?
What are the economics of shifting to a virtualized enterprise edge, and how do I make the business case?
These are questions Ciena experts often hear so we called upon our collective experience deploying thousands of virtual edge appliances and VNFs to develop our top five tips to ensure a timely and smooth transition to a virtualized enterprise edge:

Tip #1: Don't try to deploy every VNF at the same time.
Ciena recommends that enterprises take a measured, step-by-step approach to virtualization. Begin with the network function most critical to enabling digital transformation, and then add other VNFs. For example, many enterprises start with virtualized SD-WAN, then add a virtual firewall, router or cloud-based security and then continue with virtual application servers. Enterprises can begin the process when physical devices across their locations are due for replacement.
Tip #2: Virtualization isn't just loading a bunch of VNF's onto a device and expecting them to work.
There is a lot of up-front integration work that needs to go into making sure the VNFs can be onboarded easily and interoperate with each other. A successful virtualization deployment takes a lot of planning, technical knowledge, solution testing, deployment logistics, life cycle management and other considerations to successfully transform their enterprise infrastructure.
Tip #3: Avoid vendor lock-in.
There are a variety of virtualized edge solution vendors in the market, but many of them typically restrict the customer's options and ability to make a change if a VNF isn't working out. Enterprise customers should be able to choose the VNF and virtualized applications that best meet their business needs in a "best of breed" approach. They also should have the flexibility to change VNF vendors when needed.
Tip #4: Choose the right universal premises equipment (uCPE).
If you consolidate numerous physical devices into one hardware platform, you want to make sure that the single device is "carrier-grade," which means it provides high performance and high availability. In addition to the carrier-grade uCPE, be sure it comes with a full stack of software infrastructure for virtualization. It should also include software-based orchestration, which allows large-scale deployments in a highly automated and extremely efficient manner.
Tip #5: Seek a partner with strong systems integration capabilities.
Multi-element, multi-vendor, and disaggregated virtualized technologies require a systems integration process. Within that process, there are many key activities that are critical to a successful deployment. Some key systems integration activities include:
Preparing the uCPE resource requirements definition and the complex end-to-end network function virtualization solution designs.
Architecting and designing the virtual network function descriptors and network service descriptors or service chaining to combine the various VNFs.
Testing the service chains to ensure the performance of the solution meets the enterprise users' requirements.
Deploying the solution across the enterprise network which involves setting up the logistics process including things like staging, on-site installation and zero touch provisioning.
Supporting the solution through its entire lifecycle, including the management and validation of new software releases across the different components of the solution
To address questions about how to build a strong economic business case, a Ciena panelist described the ROI tool Ciena commissioned from consulting firm ACG Research. The Business Analytics Engine Tool enables enterprises to conduct customized financial modeling, using their unique data, to calculate the operational savings potential of deploying a virtualized edge solution.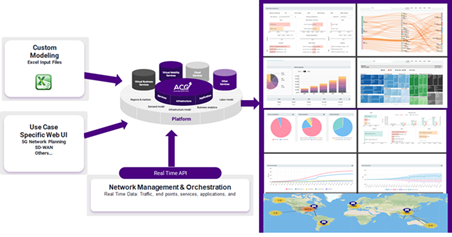 Ciena's Virtualized Edge Solution ROI Tool
In the shift to a software-centric, virtualized environment, each customer's journey will be different, and their needs are often unique to them. That's why enterprises need to seek a partner that has an open, flexible approach to virtualization, along with significant systems integration experience deploying virtualized edge solutions across multiple industries. This allows enterprises to adopt the solution at a pace that suits them, with the confidence that they have chosen a future-proof platform that can be adapted as their requirements evolve. The right partner can help you avoid the complexities of the virtualization journey, "future-proof" your infrastructure and enable you to quickly achieve significant cost savings and return on investment.