Rethink your broadband strategy with an open, modular, and scalable network
Growing residential connectivity demand coupled with billions in infrastructure funding has created a perfect storm for the broadband market. Established service providers are upgrading and expanding their infrastructure while new entrants are building greenfield networks in unserved communities.
Successful broadband providers understand that building the last-mile infrastructure is not enough. A winning strategy includes building a scalable middle-mile network capable of handling the unprecedented bandwidth requirements to deliver a great user experience both today and for years to come.
Get insights on how to operate, scale, and deliver a great customer experience, growing your customer base and revenue, now and into the future.
Take the guesswork out of capacity planning.

Plug in the specifics of your network, receive a personalized report, and remove the guesswork from your middle-mile capacity planning.
Calculate now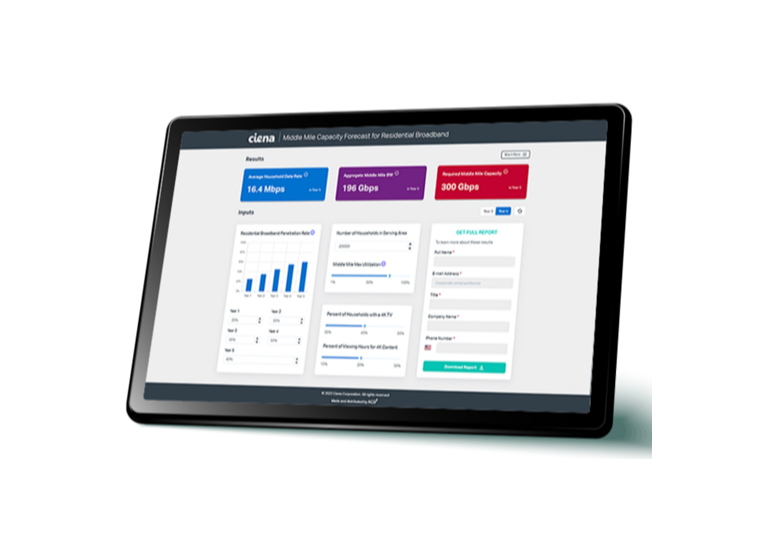 A business case tool for smarter broadband choices, sustainable networks, and scalability.
Prioritize scalability and unlock your broadband potential with Ciena and ACG Research's new network architecture comparison tool! Discover the cost of building a broadband network, compare various designs, and realize savings on space, power, and more, all while ensuring a sustainable future.
MARKETING AS A SERVICE (MAAS)
Accelerate your time to market with Marketing as a Service (MaaS)
Add more subscribers, penetrate new markets, and increase your revenue with our one-of-a-kind MaaS program designed to accelerate your business.
MIDDLE-MILE RESOURCE CENTER
Bridging the digital divide with a middle-mile network
As more customers require broadband access and demand a better experience, middle-mile/aggregation network segments will continue to be stressed to meet capacity requirements. So how do you ensure a fully scalable broadband network, from access to metro and core? And how do you incorporate flexibility and adaptability to capture additional market demands now and in the future?
Increase your flexibility, improve your agility, and maximize your investment
Ciena's Residential Broadband Solution