Thirty-one percent of businesses in Asia see 5G as critical for digitalization
Decision makers see 5G having biggest impact on corporate applications and virtual collaboration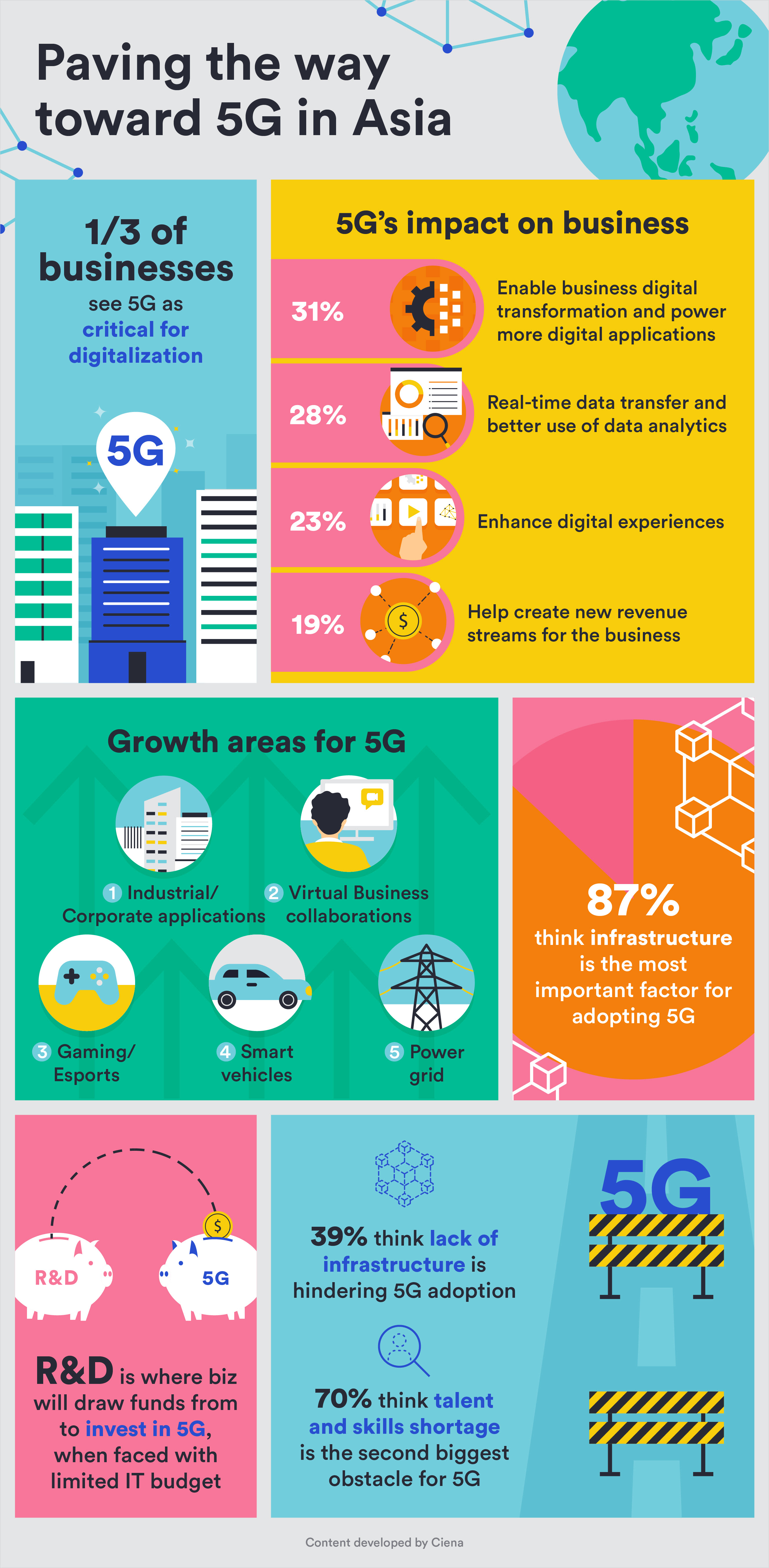 Ciena (NYSE: CIEN) found that as 5G continues to make headway in Asia, businesses are optimistic about the value it will bring. Thirty-one percent of survey respondents from Singapore, Indonesia, Philippines and Japan agree that the biggest impact of 5G lies in the enablement of business transformation and the ability to power more digital applications.
"5G is no longer just hype but a reality as organizations recognize that the real impact is on enterprise applications," said Anup Changaroth, Chief Technology Officer of Asia Pacific and Japan at Ciena. "As 5G catalyzes digital transformation, sectors from entertainment to healthcare and automotive will rely on applications that require real-time latency. This shift toward edge cloud ensures content and data can be delivered to end-users more efficiently, driving higher quality digital experiences."
5G is no longer just hype but a reality as organizations recognize that the real impact is on enterprise applications.

— Anup Changaroth, Chief Technology Officer of Asia Pacific and Japan at Ciena
Appetite to invest in 5G
Businesses across Asia remain ready to invest in 5G. Most businesses claim that 5G will have a significant benefit for business use cases, including industrial/corporate applications (30%) and virtual business collaborations (30%) – more so than consumer applications, such as gaming/Esports (15%) or smart vehicles (13%). Also, one in two respondents said their company is willing to allocate up to 15% of their IT budget for 5G implementation.
5G adoption challenges
However, adopting 5G is not without challenges. Almost four in 10 (39%) companies cited the lack of infrastructure as the top barrier, followed by talent and skills shortage (19%). To adopt 5G effectively, the survey found that 87% agreed that it requires having the technology and infrastructure and 70% need an understanding of current network capabilities and gaps.
5G calls for network transformation
With 5G accelerating the adoption of digital applications like robotics and virtual reality, these compute-intensive and latency-sensitive applications will place additional pressure on network capacities. The survey reinforces that 5G-enabled digital transformation will need to go hand-in-hand with networks that can adapt as well as dynamically respond to the ever-changing network demands of an always-on digital economy.
Note to Editors
Ciena commissioned independent survey firm Blackbox Research to conduct a survey of 400 IT and business decision makers at large enterprises (of more than 250 employees) in Singapore, Indonesia, Philippines and Japan in August 2020.
About Ciena
Ciena (NYSE: CIEN) is a networking systems, services and software company. We provide solutions that help our customers create the Adaptive NetworkÔ in response to the constantly changing demands of their end-users. By delivering best-in-class networking technology through high-touch consultative relationships, we build the world's most agile networks with automation, openness and scale. For updates on Ciena, follow us on Twitter @Ciena, LinkedIn, the Ciena Insights blog, or visit www.ciena.com
Note to Ciena Investors
You are encouraged to review the Investors section of our website, where we routinely post press releases, SEC filings, recent news, financial results, and other announcements. From time to time we exclusively post material information to this website along with other disclosure channels that we use. This press release contains certain forward-looking statements that are based on our current expectations, forecasts, information and assumptions. These statements involve inherent risks and uncertainties. Actual results or outcomes may differ materially from those stated or implied, because of risks and uncertainties, including those detailed in our most recent annual and quarterly reports filed with the SEC. Forward-looking statements include statements regarding our expectations, beliefs, intentions or strategies and can be identified by words such as "anticipate," "believe," "could," "estimate," "expect," "intend," "may," "should," "will," and "would" or similar words. Ciena assumes no obligation to update the information included in this press release, whether as a result of new information, future events or otherwise.