Ciena (NYSE: CIEN) on November 18 released results from its "Online Gaming in Asia" Survey. The survey showed that there is a great gap in the demand for network quality in Japan, depending on the amount of time spent playing video games.
The survey was conducted with respondents in Japan who are over 18 years old, and looked into the factors that affects their experiences when playing video games. The survey categorized the respondents into three segments: "heavy gamers", who are defined as those who played video games for 14 hours or more per week; "light gamers", who are those that played less than 14 hours per week; and non-gamers, which are those who do not play video games.
In particular, 29% of all Japanese gamers are willing to change to a new service provider for a more reliable network and uninterrupted connection. More specifically, 26% of light gamers and 62% of heavy gamers highlighted that they are open to try a new service provider that can provide a more reliable network and uninterrupted connection.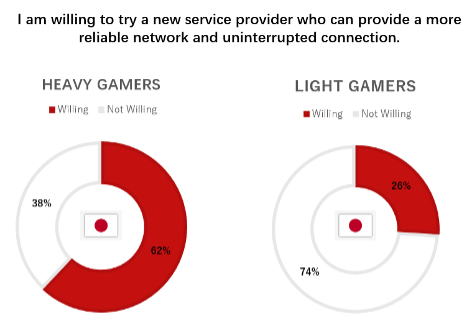 Half of heavy gamers are willing to pay more faster internet speeds
The survey found that 18% of all gamers are willing to pay more for faster internet speeds, while half (50%) of the heavy gamers and 15% of light gamers are more receptive than others to pay more for faster internet speeds.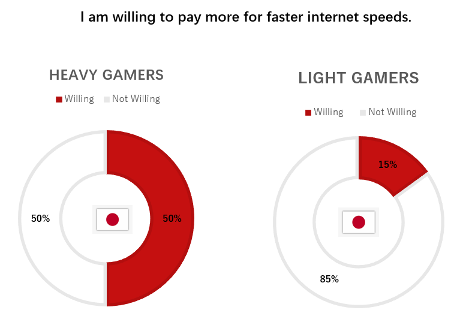 Comfort matters, too
Interestingly, 35% of all gamers indicated that a comfortable setting (i.e., chair, couch, table) is an important criterion for a satisfying gaming session. Similarly, a pleasant room temperature with air conditioning or heating is also important for Japanese consumers (31%). Other important factors while gaming include an organized setup (12%), ergonomic gaming gear (11%), and personal space (7%).
Kazuyasu Takahashi, Vice President and General Manager of Ciena Japan, commented:
"While there are differences in attitudes towards network quality and connectivity between gamers who spend different amounts of time playing video games, close to half (47%) of all Japanese gamers certainly acknowledge that stable and reliable internet connection makes gaming more fun and enjoyable overall," With millions of gamers live-streaming every day and milliseconds meaning the difference between victory and defeat, networks need to adapt to unpredictable bandwidth demands and be future ready. For this reason, it is critically important that we construct networks to embrace next-generation metro and edge architectures that are closer to the end user"
For more information about Ciena's latest survey, which also covers the Singapore and South Korea markets, download the full report here.
Note to editors
Ciena commissioned independent survey firm YouGov to conduct a survey of 1011 adults in Japan between 2nd - 6th August 2021. The figures have been weighted and are representative of all Japanese adults (aged 18+).
About Ciena
Ciena (NYSE: CIEN) is a global leader in networking systems, services, and software. We build the most adaptive networks in the industry, enabling customers to anticipate and meet ever-increasing digital demands. For three-plus decades, Ciena has brought our humanity to our relentless pursuit of innovation. Prioritizing collaborative relationships with our customers, partners, and communities, we create flexible, open, and sustainable networks that better serve all users—today and into the future. For updates on Ciena, follow us on LinkedIn, Twitter, the Ciena Insights blog, or visit www.ciena.com.
Note to Ciena Investors
You are encouraged to review the Investors section of our website, where we routinely post press releases, SEC filings, recent news, financial results, and other announcements. From time to time we exclusively post material information to this website along with other disclosure channels that we use. This press release contains certain forward-looking statements that are based on our current expectations, forecasts, information and assumptions. These statements involve inherent risks and uncertainties. Actual results or outcomes may differ materially from those stated or implied, because of risks and uncertainties, including those detailed in our most recent annual and quarterly reports filed with the SEC. Forward-looking statements include statements regarding our expectations, beliefs, intentions or strategies and can be identified by words such as "anticipate," "believe," "could," "estimate," "expect," "intend," "may," "should," "will," and "would" or similar words. Ciena assumes no obligation to update the information included in this press release, whether as a result of new information, future events or otherwise.