Ciena To Develop New Ottawa Campus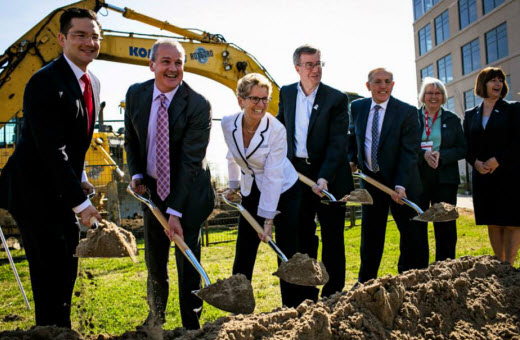 Global technology leader Ciena® (NYSE: CIEN) and its president and CEO Gary B. Smith, along with Ontario Premier Kathleen Wynne, are pleased to announce the establishment of a new corporate campus in Kanata North Business Park. The new location, at the corner of March Road and Terry Fox Drive, includes an 18-year lease on one existing building and a 15-year lease on two additional buildings, which are set to see construction begin this spring. Employees are expected to begin transitioning to the existing building later this year and the new buildings in 2017.
With state-of-the-art design, including an advanced technology lab, the new campus will comprise approximately 425,000 sq. ft. of space. It will bring Ciena's entire Ottawa team together in a single location that will serve as a centre of excellence for Ciena's employees, customers and partners across Canada and worldwide.
"We welcome Ciena's decision to establish a new corporate campus in Kanata, and are pleased that our strategic investments and highly skilled workforce helped to anchor this innovative company in Ontario," said Premier Wynne. "Through our government's four-part plan to build Ontario up, we are investing in people's talent and skills, making the largest infrastructure investment in Ontario's history, creating a dynamic, innovative environment where business thrives, and building a secure retirement savings plan."
With this move, Ciena builds on its technology leadership and innovation capabilities and reinforces the company's growing commitment to Canada and continuing contribution to the Ottawa economy.
"Our decision to move to a new corporate campus in Ottawa is predicated on the supportive climate and deep pool of highly-skilled talent we find in Ontario, who play a key role in contributing to our global leadership position," says Ciena president and CEO Gary B. Smith. "Our mutually beneficial relationship with Ottawa is a cornerstone to our future success and we are grateful for the continued support."
Canada is home to Ciena's largest employee base, with more than 1,800 people comprising one-third of the company's global workforce representing virtually every business function. Ottawa hosts more than 1,500 employees, including more than 50 percent of the company's global research and development team.
Ciena's technology is at the heart of today's communications networks in our expanding digital economy. Whether it is a phone call, email, video transfer, or large amounts of data moving between organizations, Ciena is behind the scenes, making communication happen.
About Ciena
Ciena (NYSE: CIEN) is the network specialist. We collaborate with customers worldwide to unlock the strategic potential of their networks and fundamentally change the way they perform and compete. Ciena leverages its deep expertise in packet and optical networking and distributed software automation to deliver solutions in alignment with its OPn architecture for next-generation networks. We enable a high-scale, programmable infrastructure that can be controlled and adapted by network-level applications, and provide open interfaces to coordinate computing, storage and network resources in a unified, virtualized environment. For updates on Ciena news, follow us on Twitter @Ciena or on LinkedIn http://www.linkedin.com/company/ciena. Investors are encouraged to review the Investors section of our website at www.ciena.com/investors, where we routinely post press releases, SEC filings, recent news, financial results, and other announcements. From time to time we exclusively post material information to this website along with other disclosure channels that we use.
Note to Ciena Investors
Forward-looking statements. This press release contains certain forward-looking statements based on current expectations, forecasts and assumptions that involve risks and uncertainties. These statements are based on information available to the Company as of the date hereof; and Ciena's actual results could differ materially from those stated or implied, due to risks and uncertainties associated with its business, which include the risk factors disclosed in its Report on Form 10-Q, which Ciena filed with the Securities and Exchange Commission on March 12, 2015. Forward-looking statements include statements regarding Ciena's expectations, beliefs, intentions or strategies regarding the future and can be identified by forward-looking words such as "anticipate," "believe," "could," "estimate," "expect," "intend," "may," "should," "will," and "would" or similar words. Ciena assumes no obligation to update the information included in this press release, whether as a result of new information, future events or otherwise.