Crosslake Fibre turns up 'CrossChannel Fibre' subsea route with Ciena
Crosslake Fibre is a network service provider and developer of critical communications infrastructure in North America and Western Europe. The company provides carrier-grade long-haul and metro point-to-point connectivity services to financial services companies, wholesale carriers, large enterprises, and cloud providers.
One of Crosslake's latest projects is a new submarine cable network connecting Slough in the United Kingdom with Paris, France. Called 'CrossChannel Fibre,' the network augments an existing 20-year-old infrastructure connecting the two cities, providing high-capacity, low-latency connectivity to support growing traffic driven by the cloud, video, and Internet of Things.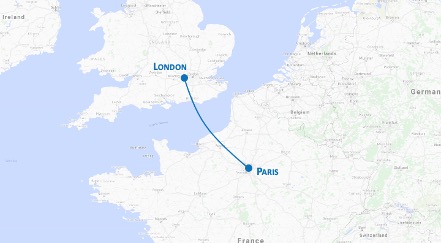 Submarine networks have long played a critical role in keeping the world connected—in fact, they carry over 99% of the world's intercontinental electronic communications traffic. But what's more, technology advancements like coherent optics are enabling unprecedented capacities on submarine networks, to keep pace with unrelenting bandwidth demands.
"With bandwidth needs ballooning—especially in the last 18 months due to work from home, remote learning, and online entertainment—submarine networks are evermore critical to keep the internet whirring along," said Mike Cunningham, CEO of Crosslake Fibre. "Ciena's solution allows us to scale our transport capabilities, protect against outages from cable faults, and keep our network ownership costs in check."
Ciena solutions supporting Crosslake Fibre
For CrossChannel, Crosslake is deploying a new seamless submarine cable and terrestrial GeoMesh Extreme network from Ciena, which leverages the 6500 Packet-Optical Platform powered by WaveLogic 5 Extreme to provide a differentiated customer experience with more bandwidth and resiliency.
Additionally, Crosslake is utilizing Ciena's Manage, Control and Plan (MCP) domain controller with Liquid Spectrum's Channel Margin Gauge app to allocate and scale capacity in real time, from 600Gbps to 800Gbps, to quickly adapt to changing customer requirements and maximize the value of deployed assets.
To learn more about Crosslake's CrossChannel Fibre, see the press release.