Hydro One Telecom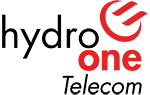 At Hydro One Telecom, we combine the strength and reliability of a respected utility with the agility of a small provider. We work together with our diverse clientele to devise creative solutions, and our engineering focus and ITIL processes ensure that our services are specifically tailored to meet individual requirements. Our customer satisfaction rating is over 90 percent, which is a testament to the satisfaction we provide.
Hydro One Telecom is properly funded, well managed and committed to the telecom business. Our Converged Optical IP/MPLS Network (COIN) is built on Cisco Reconfigurable Optical Add Drop Multiplexing (ROADM) technology to provide our clients with the flexibility to customize solutions for converged technology while improving service deliverables and offering competitive pricing.
For more information, visit http://www.hydroonetelecom.com/.